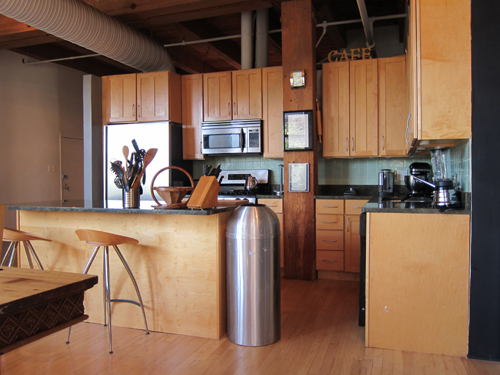 Michael Nagrant got to know Rahm Emanuel as well as anyone in Chicago.

But unlike most Chicagoans, Nagrant didn't just have superficial interactions with the would-be mayor -- shaking hands with him at L stops, asking him whether he was a communist during residency hearings.

Nagrant is a resident of Green Street Lofts, where Emanuel lived briefly before he was able to move back into his house on Hermitage Avenue. As Emanuel's short-term neighbor, Nagrant actually rode elevators with the Emanuel and his security detail -- and watched the new mayor push the buttons himself!

Now, Nagrant is doing what any Chicagoan who has even a remote acquaintance with the mayor would do: he's trying to make money off his connection. Nagrant is selling his condo, and since it's two stories below the condo where the mayor slept, he's advertising it as a chance for buyers to Live Like Rahm.
Though Rahm moved out of the loft a few weeks ago, his spirit, and the character of the building that drew the greatest living man without a middle finger here, remains.
And, now, you can own a part of this history!

For the low-low price of $294,995, you may walk the very halls Rahm did when he was contemplating appointing such future city hall of famers like education ninja Jean-Claude Brizard and Facebook flirt and public relations guru, Tarrah Cooper.

I am not sure you can live like Rahm for only $294,995. But it does give you an insight into how much higher Rahm's standard of living is than anyone else's. Even when he's homeless, he has granite countertops.
Buy this book! Ward Room blogger Edward McClelland's book, Young Mr. Obama: Chicago and the Making of a Black President , is available Amazon. Young Mr. Obama includes reporting on President Obama's earliest days in the Windy City, covering how a presumptuous young man transformed himself into presidential material. Buy it now!