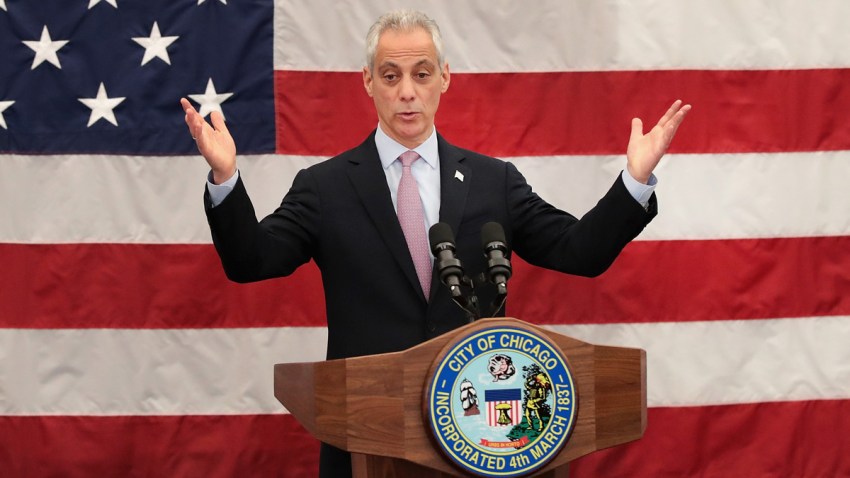 Chicago Mayor Rahm Emanuel and Rep. Luis Gutierrez will travel to Puerto Rico in March to continue aiding the island nation in its recovery efforts.
The announcement, made as the duo sat down for a chat on Mayor Emanuel's "Chicago Stories" podcast, says that the mayor and congressman will travel to Puerto Rico to view recovery efforts and to see how Chicago's response to the disaster has helped the island.
"Congressman Gutierrez and Mayor Emanuel have been working closely together on Chicago's response to provide supplies and assistance desperately needed by its residence," according to a statement issued by the mayor's office. "Unfortunately, their action has been one of necessity following the Trump administration's indefensible unwillingness to help the island nation rebuild and recover."
Both Emanuel and Gutierrez have been critical of the Trump administration's handling of the natural disaster, which left millions without power and the island with devastating damage that is still being repaired.
After President Trump's State of the Union address, Gutierrez referred to the president as "explicitly racist" and blasted him for his handling of Puerto Rico relief efforts.
"Puerto Rico is a metaphor for how this president sees all Latinos and people of color: he does not see us as his equals and he does not see us as fellow human beings," he said in a statement.
Earlier this week, FEMA officials told NPR that the agency planned to cut off food and water assistance to Puerto Rico on Jan. 31, but agency spokesman William Booher later clarified the remarks to the New York Times, saying the agency was evaluating the situation and that there were no plans to cut off aid.
The city of Chicago also launched a new bilingual website to assist Hurricane Maria evacuees from Puerto Rico as they resettle in the city.
Shortly after the hurricane struck Puerto Rico last fall, Emanuel said that the city would welcome evacuees that wanted to resettle in Chicago.
Evacuees can still seek assistance at the Trina Davila Community Service Center, located at 4312 West North Avenue, Monday through Friday from 9 a.m. to 5 p.m., or can dial 311 at any time.