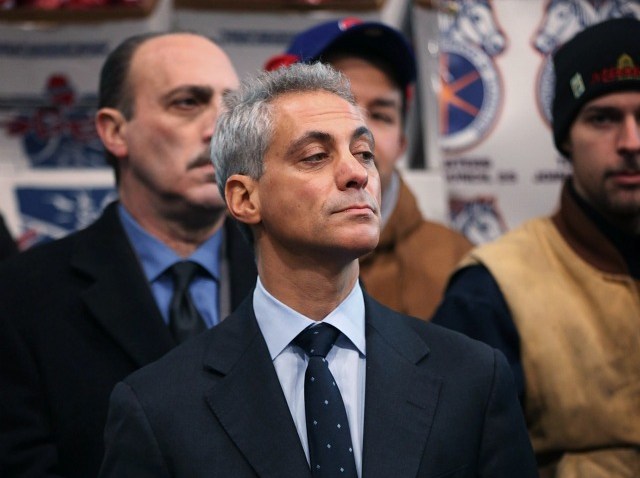 Until this weekend, Rahm Emanuel was ignoring his opponents. He was going to be the next mayor of Chicago. Why did he even need to appear in the same room with political runts like Carol Moseley Braun, Gery Chico and Miguel del Valle?
But Emanuel believes politics is no fun unless you can act like a jerk to someone. This is the guy, remember, who once sent a dead fish to a pollster who was late with his survey results.
So in this campaign, Emanuel has decided to be a jerk to Gery Chico. To be fair, Chico went negative first. During last Thursday's debate, he criticized Emanuel's proposal to lower the sales tax but tax luxuries such as limo rides, calling it the "Rahm Tax" and claiming it will hurt small businesses.
First, Emanuel came out with a web ad, set to the tune of the Lovin' Spoonful's "Did You Ever Have To Make Up Your Mind?" claiming Chico had originally endorsed the Rahm Tax. (Ward Room has been in touch with Lovin' Spoonful singer John Sebastian and his management, to see if he endorses the use of his music to promote the Rahm Tax. We'll let you know if we hear back.) Over the weekend, Emanuel sent a limo to a Chico press conference at a Hyde Park barber shop. Another Chico event was disrupted by a truck blasting the Lovin' Spoonful.
Anyway, on Monday, Chico wanted to hold a press conference at a gym, because Emanuel has proposed taxing gyms. (Although, he claims, only "luxury" gyms that people like himself can afford, such as the East Bank Club. Capitol Fax pointed out the ludicrousness of that distinction.) The first gym Chico contacted bailed after getting a phone call from an Emanuel "supporter." So Chico hastily rescheduled his press conference for Well Fit, in West Town. Despite the quick change, a pro-Emanuel flash mob appeared at the event, waving signs. According the Chico campaign, the Rahmantics claimed to be neighborhood activists.
Emanuel doesn't want to face Chico in the runoff, because Chico is the only other candidate with money. But by giving Chico so much attention, he's increasing the likelihood of that showdown. Emanuel claims he's "matured" since mailing that dead fish, but he's not behaving like a grown-up politician. Rahm will have plenty of opportunities to bully people once he becomes mayor. But he just can't wait.
Buy this book! Ward Room blogger Edward McClelland's book, Young Mr. Obama: Chicago and the Making of a Black President , is available Amazon. Young Mr. Obama includes reporting on President Obama's earliest days in the Windy City, covering how a presumptuous young man transformed himself into presidential material. Buy it now!