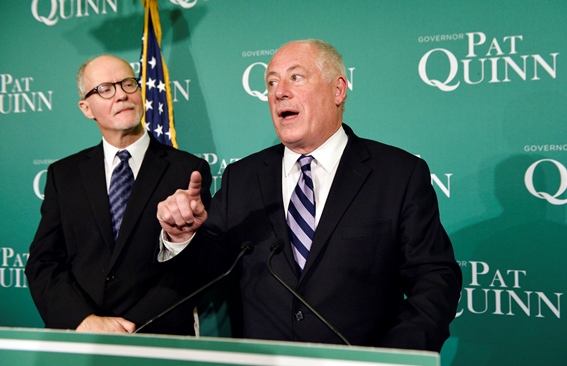 Tick tock, tick tock.
With mere weeks left until he cedes the throne to Bruce Rauner, lame-duck Gov. Pat Quinn is facing heavy time-pressure to push a minimum wage increase through the General Assembly—but first, he needs to woo powerful House Speaker Michael Madigan to his side, let his home-stretch mission slip from his grip.
"Before the new governor arrives, I want a $10-an-hour minimum wage passed outside Chicago," Quinn told the Chicago Sun-Times' Michael Sneed on Wednesday. "I've been waiting for Mike to get this needle threaded. I just want a plain vanilla minimum wage passed. But it has just been hurry up and wait for the Senate to act."
The chamber did just that late yesterday, stamping its approval on a state-wide hike hours after Mayor Rahm Emanuel and the Chicago City Council greenlit a measure to boost it to $13 per hour by 2019.
The Madigan-led House adjourned before the Senate's 39-19 majority vote, leaving the door open for Quinn to summon a special session and call state reps out of hiatus.
Meanwhile, the City Council's $13 boost on Tuesday is sparking protests from critics worried about losing business to surrounding suburbs still operating on the $8.25 hourly rate.
In a compelling column titled "How Emanuel killed a statewide hike in the minimum wage," Crain's Chicago Business' Greg Hinz reveals a missed opportunity for Madigan to hammer out a compromise between the state as a whole and the city proper, where the South Side-native speaker commands a lot of pull.
"Fearing the impact of a $13 wage in Chicago and an $8.25 wage just across the street in places such as Evanton, Berwyn, Oak Park and Orland Park, groups representing restaurateurs, retail merchants and others signaled that they could tacitly back a statewide figure of $10 or $11, just so long as that applied to Chicago as well," reports Hinz.
"And with them on board, the possibility arose that Madigan could pick up a few key votes from Republicans and Democrats whose districts cover the inner circle," he continues, "In other words, the deal was there to be done. ... But that would deprive Emanuel of a big win he could claim for his own, even if the city won't hit the $13 figure until 2019."
If Quinn can't muster enough support, then the legislation will go to the desk of Gov.-Elect Bruce Rauner, who begins his first term mid-January. Rauner, a Republican, said he supports a bump in the wage but only with pro-business concessions.