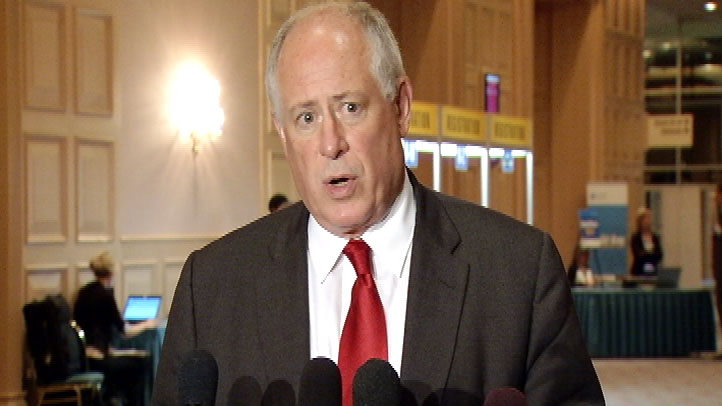 Gov. Pat Quinn's administration wants lawmakers to make the proposed Illiana Expressway more attractive to private investors by guaranteeing toll revenue shortfalls will be covered by dipping into the state's road fund ahead of other projects.
The 47-mile tollway between Indiana and Illinois would be placed at the top of the funding list under draft legislation backed by the Illinois Department of Transportation — only debt service on general obligation bonds would come before it.
That's intended to sweeten a potential deal for the $1.5 billion project that some lawmakers and regional planners contend is not a critical need, will spur little economic development and threatens to become a painful financial drain on a state buried in debt.
Critics of the proposal also question the legislation's timing — Quinn faces a tough re-election campaign this year against Republican venture capitalist Bruce Rauner. The expressway would serve an area in the southern Chicago suburbs, and Quinn has for years used the project to talk up job creation.
"It's a blatantly political move by the governor to try to get votes in an election year ... at the expense of all other road projects in the state," said state Democratic Rep. Jack Franks of Marengo. "What the governor is saying is everything else will take a backseat to this boondoggle."
Quinn spokesman Grant Klinzman said the governor has pushed for the expressway since taking office in 2009.
"The innovative and much-needed project is a key part of Gov. Quinn's economic vision for the south suburbs of Chicago — a region that has been ignored by politicians and planners for decades," he said.
The bill is to be introduced within days, and IDOT is promoting it as a "credit enhancement" that will reassure investors and reduce the state's repayments by as much as 20 percent.
Department spokesman Guy Tridgell says, based on expected revenue, other projects in line for road funds will not be impacted. Current major projects include a new $1 billion Mississippi River bridge into Iowa on Interstate 74 and $475 million in work to Chicago's Circle Interchange, one of the nation's worst highway bottlenecks.
The governor also wants to start carving the South Suburban Airport out of farmland just north of the future tollway as early as 2016 under an accelerated planning process, despite uncertainty about prospects for passenger service.
The Illiana is the state's first attempt at a transportation deal with private partners, an arrangement other states short of cash have tried with mixed results. Under some deals, the risk falls almost entirely on investors; with the Illiana, taxpayers would be on the hook, with the state taking a gamble that tolls will eventually offset its debt payments over the 35-year term of the deal.
An analysis released in September by the Chicago Metropolitan Agency for Planning concluded the route's traffic and tolls would fall short, leaving taxpayers responsible for between $440 million to $1.1 billion. The state contends that review was flawed and says it expects tolls to pay for the road and perhaps even generate $500 million in profit.
But the pursuit of a legislative guarantee that Illinois will pay up leads some infrastructure financing experts to think investors are not fully buying the sales pitch that the tollway is a sure money-maker.
"It tells me that there wasn't a level of confidence by potential bidders to take on the financing side of this themselves," said Steve Schlickman, director of the Urban Transportation Center at the University of Illinois at Chicago.
The tollway would offer an east-west link between Interstate 65 in Indiana and Interstate 55 in Illinois, and a way to bypass congested routes closer to the city. The area is home to facilities that collectively make up one of the largest inland container ports in the country, where goods from as far away as Asia are plucked from trains and packed on trucks for the Midwest market.
Owners of those facilities say the Illiana is crucial to growing the area's logistics sector, already a linchpin of Chicago's economy, and would speed trucking operations.
Transportation Secretary Ann Schneider said in an interview the jobs justification is part of the tollway's importance but so is the need for an escape valve for traffic congestion.
"As things get closer to becoming reality, then you have some people that get a little nervous," she said of the criticism. "From our perspective ... there's clearly a need out there."
Copyright AP - Associated Press