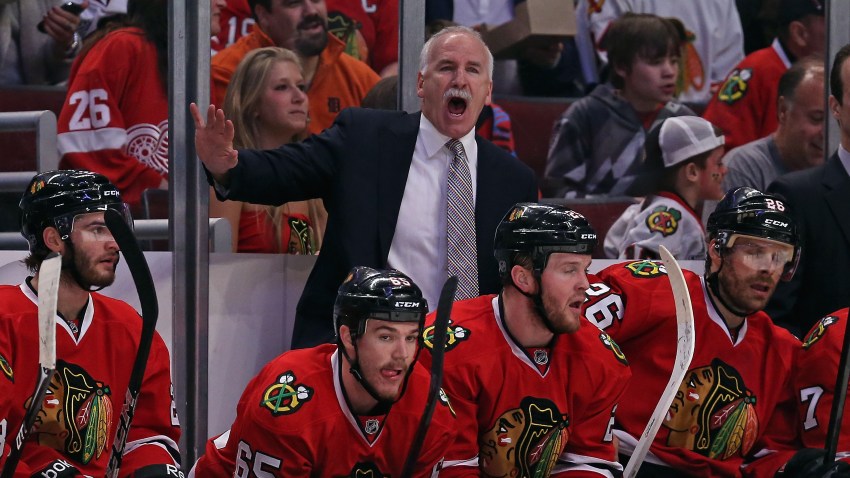 The Chicago Blackhawks loaded up their top line in Game 5 of their series with the Detroit Red Wings last week, but like all Joel Quenneville creations, it was subject to change.
That change came on Friday for the Hawks, as they ran out the following line combinations in practice, according to Scott Powers of ESPN Chicago:
Lines today were Hossa-Toews-Bickell, Kane-Handzus-Sharp, Stalberg-Shaw-Saad, Frolik-Bolland-Kruger. — ESPN Chicago (@ESPNChiHawks) May 31, 2013
The top line is a fascinating mashup of players, to say the least. Yes, Jonathan Toews and Marian Hossa have spent a lot of time together this season, but both players haven't exactly been lighting the world on fire in the playoffs offensively, so one would think that Quenneville would put a guy like Patrick Sharp or Brandon Saad with them to restoke the fire.
Instead, he opted for Bryan Bickell, and that may be a sneaky smart move. Bickell has been excellent in the playoffs, even when he isn't scoring (and he's been doing that more regularly), he is still contributing in other ways that have got to be a kick to the rear of his teammates.
The odds are that out of anyone on the team, Bickell could be the type of guy who could take some of the pressure (defensive and otherwise) off of Toews and Hossa, and that could open up some opportunities for the two veteran snipers.
The other line worthy of note is the third line. In Game 7, that group was responsible for putting a ton of pressure on the Detroit defense, and their combination of speed and grit is a matchup nightmare for a team. The Kings do have some good speed on their blue line, and they do aggressively attack puck carriers, but guys like Stalberg and Saad pose challenges to defenders trying to keep the youngsters in front of them, so that line could wreak some havoc against a Kings team that hasn't shown much propensity for scoring.
Finally, it isn't a surprise to see Dave Bolland dropped to the fourth line. Quenneville has clearly lost some faith in him, whether due to injury or poor play, so pairing him up for minimal even strength minutes with Marcus Kruger seems like the smart move at this point.
Whether these are the lines that we will see tomorrow in Game 1 of the series is anyone's guess, but if they are, then there are plenty of reasons to be optimistic about the team's chances to get off to a good start.