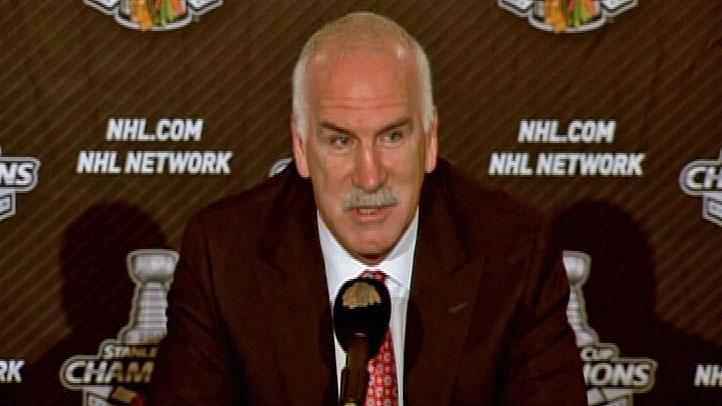 The Chicago Blackhawks have several players who have been struggling offensively as of late, and as a result, head coach Joel Quenneville is shuffling up his lines ahead of the team's contest against the Montreal Canadiens Saturday night.
Here's what the Blackhawks will look like, courtesy of Sun-Times scribe Mark Lazerus:
New #Blackhawks lines: Sharp-Toews-Hossa, Bickell-Kruger-Kane, Saad-Handzus-Versteeg, Bollig-Shaw-Smith. — Mark Lazerus (@MarkLazerus) January 11, 2014
At first blush, some fans may not be happy with those line combinations. Bryan Bickell has been struggling in a big way lately, and despite not having much to show for it, Andrew Shaw showed some promise with his effort in Wednesday's loss to the New York Rangers. Promoting Bickell and demotion Shaw seems like a bit of an odd selection, but upon closer inspection, these line combinations are actually a smart move from Quenneville.
The main reason for this assertion is that the third line is actually smartly constructed in the new lineup. Kris Versteeg is a perfect third line player, with a nice blend of speed, offensive ability, and defensive awareness. Michal Handzus can't log heavy minutes, but he still can win face-offs and can at least get the puck moving the other way. Brandon Saad has boatloads of speed and is a better defensive player than most players his age are, so his two-way ability will play well on that line.
As for Bickell, this move has two possible outcomes, and both would benefit the Blackhawks. Moving him up to the second line could spark his long dormant offensive game, and skating on a line with offensive threats like Marcus Kruger and Patrick Kane could open up some ice for Bickell to play his game. He could also be a good netfront presence for the Hawks, and a sharpshooter like Kane could have a field day against the Canadiens if Bickell causes havoc near the crease.
If the move doesn't work, then the other outcome is equally palatable. Quenneville never hesitates to change things up mid-game, so if Bickell is still struggling, he could simply switch Bickell and Saad, and make the second line into an absolute matchup nightmare, loaded with speed and offensive talent.
It will be interesting to see how the new combinations play out on Saturday night, but with three games in four days, the Hawks are going to have plenty of opportunities to evaluate the changes.