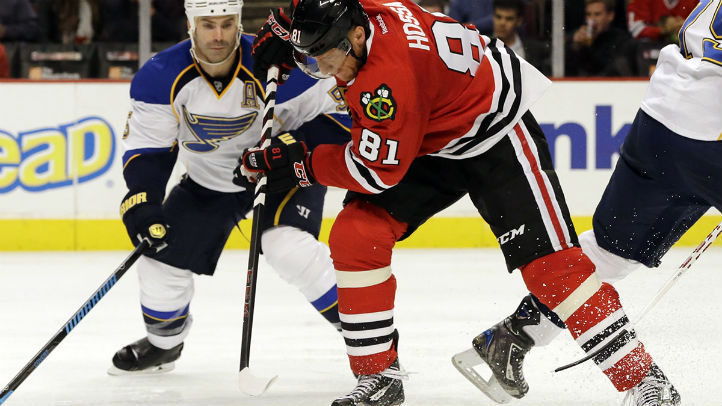 After calling the offensive effort of the Chicago Blackhawks "awful" following Thursday night's 3-2 loss to the St. Louis Blues, Hawks head coach Joel Quenneville shuffled up his offensive lines in a big way. Here is the lineup that one of the league's most noted line-tinkerers has come up with:
Brandon Saad – Jonathan Toews – Marian Hossa
Patrick Sharp – Michal Handzus – Patrick Kane
Bryan Bickell – Marcus Kruger – Andrew Shaw
Brandon Bollig – Brandon Pirri – Joakim Nordstrom
The most notable change is of course the separation of Kane and Toews, who were reunited last season during the Stanley Cup playoffs. Kane and Toews had both been struggling in the team's series against the Detroit Red Wings, and their reunion seemingly sparked Kane as he ended up winning the Conn Smythe Trophy as playoff MVP.
More intriguing is that Quenneville has reverted back to lines that were effective in the early stages of the team's successes last year. Saad really dazzled folks when he was on the top line with Toews and Hossa in his rookie season, and even though his statistics didn't jump off the page, his on-ice performance was definitely a good sight for Hawks fans looking for the "next big thing" for the team.
While all of these lines have a good track record (with the exception of the fourth line), there is one quibble to be had with the choices. Yes, Handzus is definitely the best guy for the second line center spot in terms of being able to both contribute offensively and be responsible defensively, but does his plodding style (he seems even slower than he was last year) put a bit of a damper on Kane's more free-flowing game?
The answer to that, at least last season, seemed to be yes, especially as the Hawks hit playoff time. It is only seven games into the season though, so it's not like Quenneville won't have time to make changes if this scheme doesn't work.