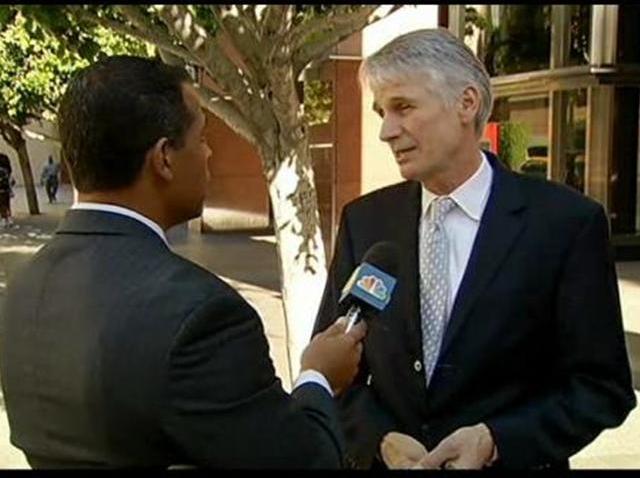 The Chicago Blackhawks didn't have a lot to cheer about after the first period of their game against the St. Louis Blues on Thursday night, eventually dropping a 4-3 decision and giving the Blues a 1-0 lead in the best-of-seven series.
During the second overtime of the game however, Blackhawks head coach Joel Quenneville had one of his most notorious moments on the bench for the team as the officials were discussing a potential delay of game call that could have given the Hawks a 5-on-3 power play. In his attempt to convince officials to make a call, the Hawks coach busted a move and set Twitter on fire in the process:
UPDATE: Quenneville has been fined $25,000 by the league for his actions during the game. At practice on Friday, the coach apologized for his conduct, calling it a "bush league move on my part."
"Disappointed at the call but I'm not... I apologize for my behavior, it wasn't very appropriate at all," Quenneville said.
Quenneville has been fined $25,000 by the NHL "for inappropriate conduct" during Game 1 last night. The money goes to the NHL Foundation. — Dan Rosen (@drosennhl) April 18, 2014
The disco-style moves to emphasize his feelings on the puck going over the glass were pretty great (and drew plenty of comparisons to Michael Jackson, as well as John Travolta's character in "Saturday Night Fever"), but it was the little move at the end that drew the most attention. Rick Morrissey of the Chicago Sun-Times called it "clutch and grab hockey," but that may not be what the NHL will end up calling it. According to Mark Lazerus, the league office may call it a fine worthy offense:
I'm told NHL VP of hockey operations Colin Campbell is reviewing Quenneville's, uh, gesture. Certainly wouldn't be a shock if he were fined. — Mark Lazerus (@MarkLazerus) April 18, 2014
It seemed like a pretty innocuous gesture, and certainly nothing that was done to show up the officials. That being said, it's just a fine even if Colin Campbell decides to hit Quenneville in the pocketbook, and at least Hawks fans got some joy out of it.