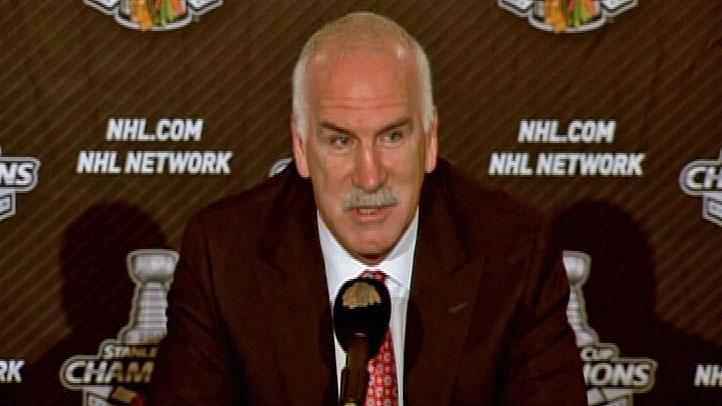 While most NHL fans are ecstatic to see players heading overseas in February to participate in the Winter Olympics in Sochi, Chicago Blackhawks players and coaches probably aren't sharing that enthusiasm right about now.
That's because the Hawks are in the midst of a grueling stretch of six games in nine days, and they haven't exactly gotten off to the best of starts, losing the first two games after being in a position to win both of them. They have been getting hammered with players missing contests as well, with Michal Handzus missing both games due to an illness and Andrew Shaw not travelling with the team to Minneapolis for their 4-3 loss to the Wild on Thursday night.
Despite these shortages of players, Hawks head coach Joel Quenneville made it a point on Thursday night to give some serious minutes to a slew of forwards, while giving some other guys a really easy night at the office.
In the game, Sheldon Brookbank, who suited up as a third line winger with the absence of Shaw, ended up playing only 4:59 of ice time. Jeremy Morin didn't fare much better, clocking in at 8:17 (1:03 of which was power play time), and Joakim Nordstrom was on the ice for 9:55 in the game.
Meanwhile, the Hawks' veteran core got plenty of reps in the contest. Marian Hossa checked in with 19:24 of ice time. Patrick Kane, Jonathan Toews, and Patrick Sharp all eclipsed the 20 minute mark, with Toews leading the way at 21:16. Brandon Saad also came perilously close to the 20 minute plateau, falling just short at 19:59.
Why does Quenneville insist on running his guys out there for shift after shift in games like these? Yes, it was a razor-thin one goal game, but by the end of the contest it was clear that guys like Toews were completely out of gas, and yet Quenneville continued to send them out at every opportunity.
This strategy came in spite of the fact that Morin and Kris Versteeg (who did play a respectable 15:39) were playing some excellent hockey in the game, and could have been used to give some of those other veterans more of a breather during a long stretch of games that is going to take a big toll on everyone in the lineup.
Quenneville's seeming unwillingness to give any long-term thought to strategic decisions within the framework of games is eerily similar to that of another Chicago coach, Bulls head master Tom Thibodeau. He has been routinely criticized for leaving players like Derrick Rose and Luol Deng in games for too long, and he is still doing it despite the cavalcade of injuries that the team has experienced. In Thursday night's win over the Miami Heat, which the Bulls led by a wide margin throughout, Thibodeau insisted on playing Deng for 42 minutes in the game.
Yes, the Bulls only had 10 healthy players in their lineup, but there is no reason why Deng continued to stay on the court while Mike Dunleavy only picked up 26 minutes and Taj Gibson only played for 24. Neither of those guys was in foul trouble (and neither was Tony Snell, who started and played 28 minutes), but in spite of that, Thibodeau left Deng in the game to risk a potential injury in a game that the Bulls ended up winning in easy fashion.
While not the same circumstance in terms of the game's final outcome, Quenneville's decision to keep his big guns on the ice for long stretches is eventually going to have an impact if he keeps doing it. Uptempo games are coming up on the schedule against the Anaheim Ducks and Dallas Stars, and the Hawks will also be facing some physically imposing teams like the Toronto Maple Leafs and Philadelphia Flyers next week too.
That blend of styles is going to put a premium on having a well-rested and healthy supply of guys to choose from, and putting extra minutes on their legs in a game where other guys are playing well and capable of filling in is a silly decision from a guy who should really know better having coached in several situations where condensed schedules had the potential to wreak havoc on his roster.