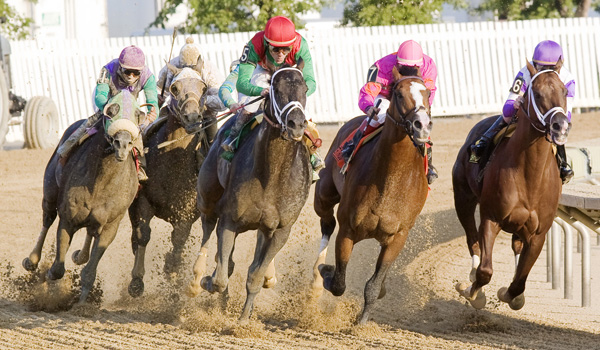 Tim Carey is president and general manager of Hawthorne Race Course, a business that has been in his family since 1909. On Saturday, the day of the Illinois Derby, he talked about why it needs slot machines to survive.
Q: How would slot machines change your racetrack?
A: Slot machines would change this place overnight, and our plan is, we're going to gut this building. I believe it's going to happen. The fact that we passed a bill in '11, the fact that we passed a bill in 2012, there's no reason to think that we're not going to pass a bill.
Q: Gov. Quinn won't sign a bill.
A: This time around, he has submitted language that would be acceptable to him. He did that in December, and so John Cullerton has been very cognizant of the governor's concerns and is doing everything he can to take down the hurdles in front of this bill.
Q: Why does your track in particular and the racing industry in general need slot machines?
A: To be competitive. You know what I'm really scared about? Ohio. You look at the fact that the gaming companies bought the seven racetracks in Ohio. Slot machines are just coming online now. If you don't think they're going to market those places and bring people in...Indiana has slots at racetracks, Iowa does, Wisconsin does. Look at what Yonkers is running for, Saratoga, Aqueduct, the money they're generating for their purse structure. Illinois is just going to tank. If you want the breeding in Illinois, you have to have slots.
Q: Can Hawthorne survive without slots?
A: I think it can survive without slots. It will be a slow, miserable death for racing. I'll be curious to see what Arlington does. I'll bet Arlington pulls the plug. All the racetracks lose millions of dollars a year. That's the state of racing in Illinois.
Q: When you say, "It's going to be a slow, miserable death," that suggests it can't survive.
A: It can't survive long-term. We can conduct racing for a period of time, but it's not going to be high-quality racing.
Q: People are already saying the quality of racing has been affected. You had to cancel a date here, you've had eight-race days, shorter fields.
A: You've just hit on a pet peeve of mine. Enter your horses! I've got 1,400 horses on that backside. Don't use my track as a training track and ship to Iowa, ship to Indiana, now going up to Canterbury.
Q: If you get slots, how does this track change?
A: I'm going to gut it, so every aspect of the dining experience, the entry, the parking lots, every aspect of the track gets changed.
Q: You shut down part of the clubhouse because there weren't enough people here. On a weekday, how many people attend the races?
A: Sixteen, eighteen hundred.
Q: How would slots affect the purse structure [the amount of prize money awarded to winning horses]?
A: We'd go from $160,000 a day to $350,000-$400,000. There'd be plans to build more barns, because there'd be such a demand. Back in the day, it really was California, New York, Florida, and fourth in the country was always Illinois racing.
Q: It's become a minor-league circuit.
A: It really has. That's because we haven't kept up.