*An earlier version of this story errouneously referred to Hockey Prospectus as a source. The information actually came from Michael Greenberg.
Oh, Michael Greenberg. Trying to appeal to the Sabermetric Baseball nerd in all of us, with your funky numbers and funky stats and what sounds like an actual college education: you're doing such a good job.
Especially when you pump the tires of a player we're really excited about. Flattery will get you everywhere, HP.
Last week, ESPN's Michael Greenberg came up with a piece trying to predict who would be the next, first-time 30-goal scorer. The first name on their list? Michael Frolik. He apparently fits their secret sauce profile for this, in that he's under 26, wins the possession battle for the puck no matter the quality of his linemates, and has simply unsustainable bad luck with his shooting percentage.
We talked about this some last year when Frolik could only manage three goals in his 28 games as a Hawk. In his first two years in the league in Florida, Frolik scored on about 11% of his shots. Last year, split between Miami and West Madison, it was 4.4%.
This has something to do with simply luck. It's like a prime hitter having a bad season because his batting average of balls put in play -- which always corrects to .300 for the most part -- is way low, indicating he's just hitting balls at people. Well, Frolik was just putting pucks at goalies instead of past them. As HP points out, even a modest correction in this percentage will see him vault over 20 goals.
And this is the season he gets to play with real talent, so there's obviously a sense he could really break out. He's never quite had a center like Dave Bolland, and though it was only four games in the playoffs last year, they seem to already have a chemistry. Plus a full training camp to get acclimated to the Hawks system can only help.
However, playing with Bolland could also hurt Fro. That's the line that will be tagged with stopping the other teams' top line, which isn't always conducive to adding to your offensive numbers. Bolland's come close to 20 goals in that role, and Martin Havlat had 25 on his wing three seasons ago. But no one else has managed more, and it's a wonder if Frolik can balance both.
Another thing going against him is it's unclear how much power play time he will get. If we allow that Patrick Sharp will be on the point again (and he really shouldn't be, with Keith-Seabrook and Leddy-Montador being excellent pairings for both man-advantage units, as well as Lepisto being able to do some of that) the forwards will be Toews, Kane, Brunette, Hossa, Bolland. That only leaves one slot open on any power play team, and the Hawks could be tempted to give it to Bryan Bickell, if he decides to actually use that frame for good in the crease and not for parading around the outside.
Time will tell.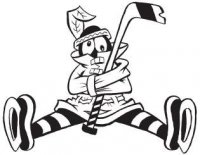 Sam Fels is the proprietor of The Committed Indian, an unofficial program for the Blackhawks. You may have seen him hocking the magazine outside the United Center at Gate 3. The program is also available for purchase online. Fels is a lifelong 'Hawks fan and he also writes for Second City Hockey .