The Hawks have their first bout with three games in four nights, starting tonight at the RBC center somewhere in North Carolina. I'm not sure where, and I'm not sure it matters. It's Northern superiority to the hilt, but whatever.
Once again, the Hawks are bringing a full and healthy lineup to the rumble, and at this point I feel like we have to make sacrifices to some sort of god to give thanks for that. Even though it was only via shootout, the Hawks are unlikely to make any lineup changes. If there's one at all, it'll be Sami Lepisto in for Sean O'Donnell -- who had some rough moments against the Ducks. The Hurricanes also have more speed than the Blue Jackets -- tomorrow's visitors -- so this is a better spot for a break. Corey Crawford will start tonight, meaning that Ray Emery will get the nod at home tomorrow night.
As for Carolina, they have a perfect slot machine record at 3-3-3. They're a pretty non-descript bunch, ranking in the middle of the pack in most categories, except for goals-against. They can see the bottom of the canyon from where they are in that stat.
They're being led in scoring by Justin Bieber look-a-like, sound-a-like, and overall dude who makes your mom blush in Jeff Skinner. Skinner won the Calder Trophy (rookie of the year) last year, and is showing the same all-around game in the offensive end this term. He's got great vision for a kid this age, but isn't afraid to call his own number when available, something you don't always see from a 19-year old pivot. He's got 10 points in nine games.
Backing him up, though that sounds weird considering his career, is Eric Staal. Staal is a monster who rarely gets any pub playing in the backwaters of Tobacco country. He's huge (6-4, 205) but can skate like the wind and has just genius hands. He's off to a somewhat slow start this season with only five points in nine games. The bet here is that with the last change at home, coach Paul Maurice will try and get Staal about against Patrick Kane as often as he can and hope the size difference will tell the tale. It's what I would do.
Where Carolina reaches for the TUMS is in the back. Their defensive group just doesn't mark anything out in any way. Tomas Kaberle is here to cash his check and look generally confused, as he has for the past few years despite whatever the Leafs media tells you. Joni Pitkanen is a somewhat usefull puck-carried, but the rest of the crew definitely as "The Pips" type feel. The Hawks should really run riot over these guys if they're on song.
They can get away with it at times because in net the Canes have another great player who can stroll through any downtown naked without getting recognized thanks to a Carolina zip code. Cam Ward pulls them out of a multitude of fires, and he's doing so again this year. He's seeing 33 shots per game, but still rocks a .920 save-percentage. No matter how clean your looks are at him after getting though the Cottonelle defense, he takes some beating.
The Canes like to get up and down the ice just like the Hawks, especially at home. This will look a lot like the Avs games at times, but the Canes don't come with the necessary talent to make that work. Unless the Hawks just don't show up, they should win.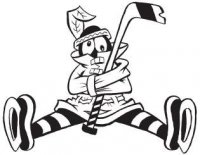 Sam Fels is the proprietor of The Committed Indian, an unofficial program for the Blackhawks. You may have seen him hocking the magazine outside the United Center at Gate 3. The program is also available for purchase online. Fels is a lifelong 'Hawks fan and he also writes for Second City Hockey .