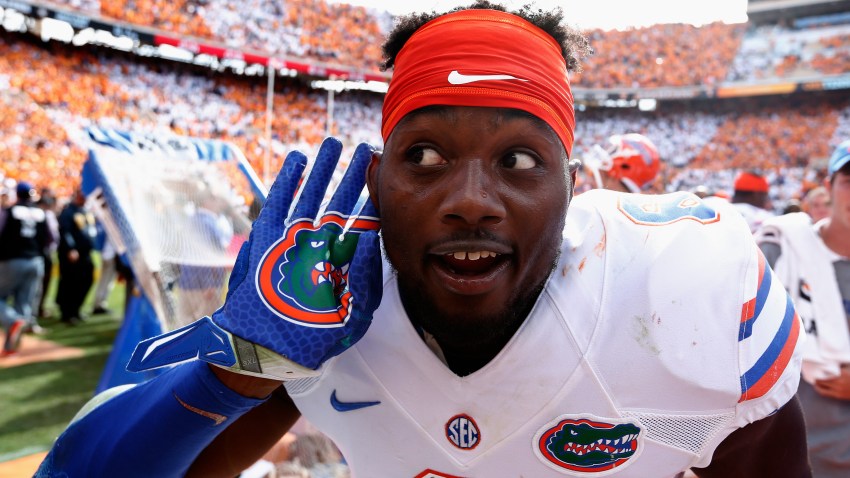 Over the next couple of weeks, we'll be profiling 10 of the players that the Chicago Bears could be eye-balling for the number seven overall pick in the 2015 NFL Draft. We'll be evaluating where they would fit in with the Bears, what teams could potentially pick them off ahead of Chicago, and ultimately whether or not we feel the Bears should take them.

So as not to spoil our mock draft, we'll go alphabetically through the list, and we'll continue in that vein today with University of Florida defensive end Dante Fowler, Jr.
The Details:
Of all the pass rushers available in this draft, Fowler may be the best equipped to handle moving around the field and playing different positions while still maintaining his effectiveness. He's shown explosive ability at both 4-3 defensive end and as a 3-4 outside linebacker, and his combination of size and speed make him ideal for either role. He's been working hard on his moves at the line, and he has a great work ethic according to various scouts.
What He'd Bring to the Bears:
The Bears need an athletic player that they can move all over the field (much like they got with Pernell McPhee), and Fowler would bring even more of that to the table for their defense. He can get to the quarterback, seal off the edge against the run, and he isn't going to be pushed around by the sizable tackles that patrol the fields in the NFL. The Bears need a physically imposing and fast pass rusher, and Fowler would certainly fit that bill.
Other Teams That Could Target Him:
The Jacksonville Jaguars have so many needs up front that it wouldn't be a shock to see them go with Leonard Williams at the third spot, but that doesn't necessarily mean the Bears would have a clear shot at Fowler. Washington is another big potential spot for him to go as they search for a replacement for Brian Orakpo as a pass rusher, and even the New York Jets could swoop in and grab him ahead of the Bears.
Should the Bears Take Him?
If he's available at the seventh spot, the Bears should absolutely take him. They do have a bit of a logjam at outside linebacker in their new 3-4 system, with Jared Allen and Lamarr Houston both likely getting shots at spots, but when it comes to building for the future and making sure that you've got the necessary pieces in place for the long-term, Fowler is an excellent building block.
His size and speed can't be taught, and with his work ethic and willingness to work on his moves and technique, he could be a dream come true for defensive gurus like John Fox and Vic Fangio.