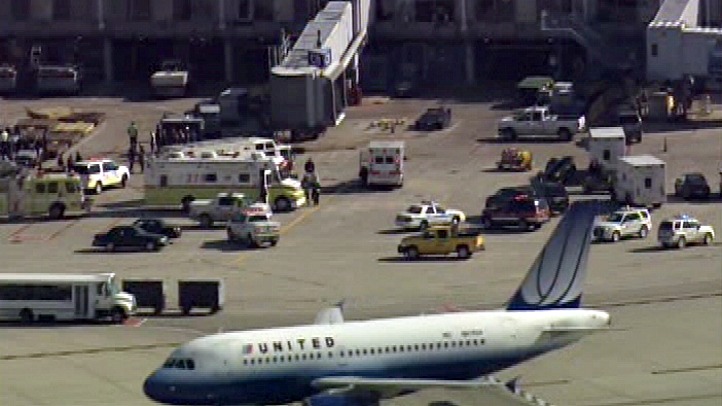 It is perhaps, a sad sign of the times that a simple accident involving a shipping container at O'Hare caused momentary havoc and a full blown terror response from federal and local police agencies late Tuesday morning.

Representatives from the FBI, the Transportation Security Administration, the Chicago Police and Fire Departments and the Police Bomb and Arson unit were called to the C concourse of Terminal 1 at O'Hare, after a "pelican case" containing an industrial battery exploded as a baggage handler was unloading it from a conveyer belt.

Portions of O'Hare's massive baggage systems were shut down as the matter was investigated, and the airline worker was taken to Resurrection Hospital suffering from minor burns.

Police said the container carrying the battery originated in Lafayette, Louisiana. It continued to Houson Interncontinental Airport before flying to O'Hare. Its final destination was Bismarck Municipal Airport in North Dakota, the TSA said.

A representative of the shipping company was briefly detained for questioning, but police said no charges were contemplated.

"First and foremost, there was nothing criminal in nature here," said Aviation Commissioner Rosemarie Andolino. "It is an accident."

It was not clear what caused the battery to overheat.

United said some passengers would experience delays in retrieving their luggage. Immediately after the scene was declared safe, many passengers appearing in baggage claim said they had been forced to wait on the tarmac for over an hour, because their planes were not given permission to park.

"They parked us out there with the rest of the planes," said passenger Janice Vosburgh, who arrived on a United flight from Buffalo. "There were quite a few planes out there waiting to pull up to gates."