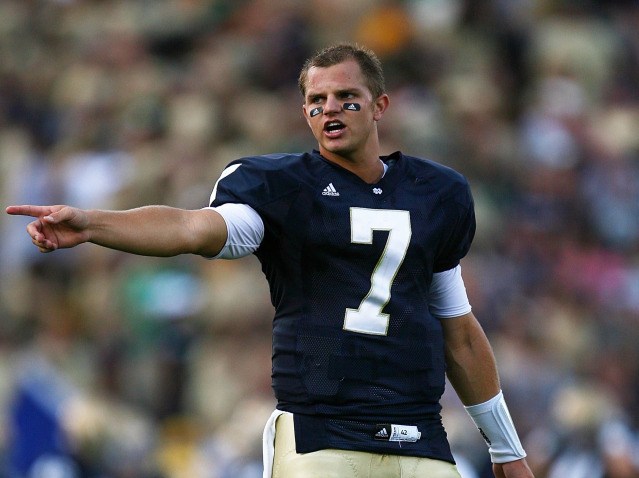 With the Chicago Bears up in the Windy City for the annual Family Fest at Soldier Field Saturday night, it's a good time to take a look at the status of the position battles that are being decided on the practice fields in Bourbonnais.
Back-Up Quarterback
Arguably the job that fans are paying most attention to, the battle to see who will be Jay Cutler's back-up when the season opens is in full swing. Both Jimmy Clausen and Jordan Palmer have been getting reps with the second team so far in camp, with Clausen looking a bit more polished as he continues to grow more comfortable in the playbook.
This battle won't be decided in practice, and the first several preseason games should give us a good idea of who is more comfortable in the role that became such a pivotal part of the 2013 Bears season.
Back-Up Running Back
For as much as head coach Marc Trestman has talked about the competitions in camp being open, it was still surprising this week when the back-up running back spot went up for grabs even more than it already was.
In what was largely assumed to be a battle between Ka'Deem Carey and Michael Ford for the job, Trestman threw a wrench into the works when he began to have Shaun Draughn work out with both the first and second teams. Able to catch passes out of the backfield and looking at least somewhat adept at blitz pickup, Draughn had a good end of the week in practice, and raised some questions about who will end up winning the job.
This battle is going to be one that could be decided in practice, with Ford and Draughn being the most likely candidates, but Carey could make a late surge depending on how he looks in the preseason games both on the run and in picking up blitzing defenders.
Third Wide Receiver
This job is a bit more set in stone, with Marquess Wilson entering camp as the frontrunner and doing nothing to lose the spot. He has been one of the most electric players on the field, snaring passes with his great leaping ability and strong hands, and unless someone comes and pries the gig away from him, he should be the third wide receiver in Week 1.
The only outside chance anyone has is if Trestman decides that he needs a smaller, quicker receiver to play in the slot. That could open a spot for Eric Weems or Chris Williams, who have also looked good, but both players are likely more concerned with nailing down the kick return duties than usurping Wilson at this point.
Middle and Strong Side Linebacker
Outside of Lance Briggs, it's anyone's guess as to who will start at the other two linebacker positions, but after a week's worth of camp practices, it would appear that DJ Williams and Jon Bostic have the inside track for starting jobs. Shea McClellin seems like he's fitting in well when a blitzing linebacker is needed, but in nickel packages he's having trouble figuring out where to position himself, and in the regular 4-3 front packages he's not able to shed blockers, which was his problem at the defensive end position last season.
This will be a battle to keep an eye on as camp goes on and as preseason games are played, but as of right now, Bostic and Williams are safe bets as starters.
Safety
This position is one that is being fiercely contested, with four players vying for two spots in the secondary. On Friday, Adrian Wilson got his first crack at first team reps, with Danny McCray playing alongside him. Ryan Mundy and Brock Vereen played second team snaps in the practice, but Mundy has been playing as a first team safety throughout camp.
There are several ways to look at this battle, with the final judgment coming after the preseason ends. Vereen and Wilson have looked very good together, and Trestman has said that the safety positions are interchangeable in his eyes. Mundy has looked really solid as well, but Wilson has a far more established track record, so it's unclear who would have the upper hand.
If we had to guess, Wilson will end up snatching up one of the safety jobs, with Vereen and Mundy neck and neck for the other one. Mundy would likely win out in that scenario, but Chris Conte could make a late charge if Trestman decides that a player more familiar with the system should be on the field in Week 1.