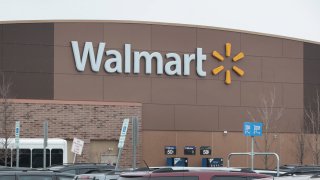 Police in Indiana said Friday that heroic actions by a Walmart employee and law enforcement officers kept a gunman who shot and injured one female employee from doing more harm.
The woman was the only person injured late Thursday when a 25-year-old male walked into a store break room where employees were meeting, specifically aimed at the victim and shot her in the face with a 9mm handgun.
Sgt. Anna Gray of the Evansville Police Department said officers were within the building within four minutes of the 911 call, and the gunman was shot and killed by officers who tracked him down shortly thereafter. No injuries were reported among the roughly 100 officers from several agencies who responded. There were about 40 employees and 40 shoppers in the store at the time.
After the shooting, a male employee — whom the gunman was also targeting — ran out of the room, and the gunman followed him. Another female employee saw that the gunman had fled the room and called 911. She then ran back into the room to get the victim, take her into another room, locked the door and turned out the lights before the gunman returned looking for the wounded woman.
Evansville Police Chief Billy Bolin called the employee a hero and credited her with saving the victim's life.
"I have no doubt that he was going back to finish what he started and we would probably have a dead victim today instead of one that's alive," Bolin said during a press conference Friday.
The wounded woman was taken by helicopter to an Indianapolis hospital and was in stable condition, according to Gray.
At least eight officers fired shots as they tracked the gunman, whom Bolin said left a suicide note.
"He absolutely planned to die last night," Bolin said.
Gray said investigators did not yet know when the gunman acquired the handgun he used in the shooting or how many shots he fired.
Body camera video played during the news conference showed one officer holding an assault rifle in front of him and another officer in front of him moving through the aisles of the store until gunfire is heard from elsewhere in the store and an officer shouts: "Drop it! Drop it!" Moments later, a voice is heard saying, "He's down, target is down."
The shooting was not the first criminal incident involving the gunman at the store. He was fired from the store after being charged with four misdemeanor counts of battery on May 18, 2022, after he attacked four co-workers. A probable cause affidavit filed in the case states that the gunman told police he had issues with people at work and "lost control."
The case was eventually referred to Vanderburgh County's mental health court.
He had pleaded guilty to the battery charges and was complying with mental health treatment through the court, Vanderburgh County Prosecutor Diana Moers said. The gunman had in fact appeared for a progress hearing on Thursday afternoon, just hours before the shooting.
Moers said the gunman's conviction on misdemeanor battery charges "wouldn't be one that excludes him from owning a handgun, necessarily."
Walmart, the Bentonville, Arkansas-based retail giant, said in a statement that the "entire Walmart family is shocked by the senseless violence that occurred at our Evansville store, and our hearts are with our associate at this time."
The company said in a separate statement that it does not discuss personnel matters involving current or former employees, but said that the gunman "has not worked for Walmart since May 2022."
Indiana has a "red flag" law, which legislators passed in 2005 and allows police or courts to seize guns from people who show warning signs of violence. However, after the May incident at the store, red flag court proceedings were not initiated against the gunman, according to Winston Lin, chief deputy prosecutor for the Vanderburgh County Prosecutor's office, said Friday.
Indiana University law professor Jody Madeira, an expert on Indiana's "red flag" law, said prosecutors most likely would not have filed such an action in this case office unless there was a threat of gun violence in the gunman's past, and there was no indication there was.
She noted he had been complying with court-ordered mental health treatment.
Evansville, a city of around 116,000 residents along the Ohio River, is about 170 miles (275 kilometers) southwest of Indianapolis.
A Walmart manager in Chesapeake, Virginia, killed six people in November when he began shooting wildly inside a break room before a routine employee meeting, two days ahead of the Thanksgiving holiday. Six people were also wounded. The gunman shot and killed himself before officers arrived.
___
Rick Callahan and Tom Davies contributed to this report from Indianapolis.