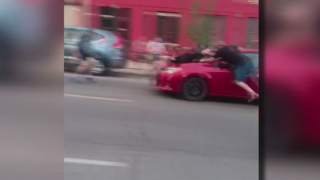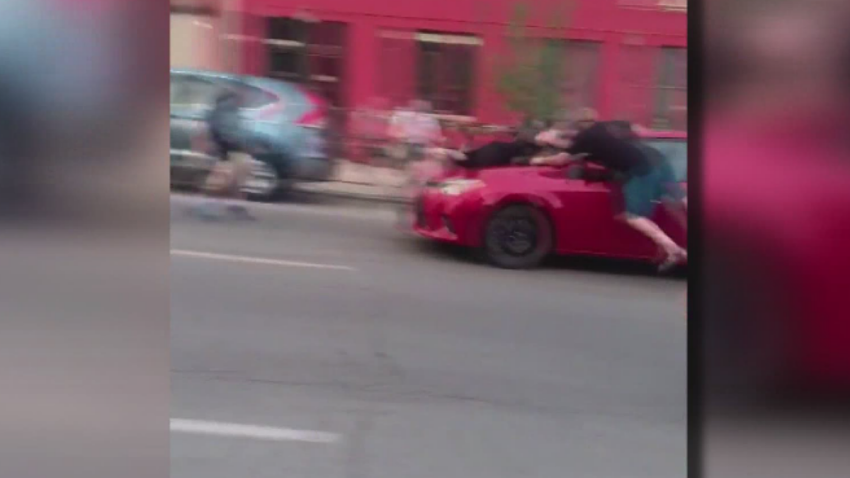 Police in a southern Indiana city are searching for two people who were in a car that struck a woman, knocking her unconscious, and dragged a man during a protest to demand arrests after a group of white men were caught on video assaulting a Black man at a nearby lake.
Police officers responded to the collision around 9:30 p.m. Monday near the Monroe County Courthouse in downtown Bloomington, Police Cpt. Ryan Pedigo said in an email Tuesday.
A male passenger got out of a red Toyota car and went to move an electric scooter that had been left in the road near the protest site, Pedigo said. A 29-year-old woman approached the car as if to stop it moving forward, placing her hands on the hood, he said.
The driver accelerated into the woman, launching her onto the hood. At that point, a 35-year-old man grabbed the driver's side of the car and held on as the vehicle continued to accelerate. Both were eventually flung to the ground and the car fled the scene, Pedigo said.
The woman was knocked unconscious and suffered a cut to her head, while the man scraped his arm. She was transported by ambulance to a hospital but her injuries are not believed to be life-threatening, Pedigo said. Authorities have not released the identities of the two who were injured and nor said if they were participating in the protest.
The red Toyota has not been located and investigators are still trying to determine the identities and location of the male passenger and female driver, police said in a news release.
Several protesters provided police with cellphone footage, Pedigo said.
The protesters had gathered in Bloomington, about 50 miles southwest of Indianapolis, to demand arrests in an assault on Vauhxx Booker, a local civil rights activist and member of the Monroe County Human Rights Commission, over the Fourth of July weekend.
Vauxx, of Bloomington, said one of the white men who attacked him and pinned him to a tree at Lake Monroe threatened to "get a noose." The attackers accused him and his friends of trespassing on private property.
Bloomington Mayor John Hamilton and City Clerk Nicole Bolden issued a joint statement to "express outrage and grief relating to two apparent racially motivated incidents reported in our community over the July 4 weekend."
"These separate incidents exemplify the persistence of racism and bias in our country and our own community. They deserve nothing less than our collective condemnation. They require that we come together as a whole, and recognize that racism damages all of us, not just our residents of color. We deserve better, and we must make it happen. Videos of the events remind us of the importance of witnesses and witnessing. Each of us must do our part to assure justice for those harmed in this weekend's incidents, and do everything we can to forge inclusion and equity in Bloomington, and beyond."
Copyright AP - Associated Press