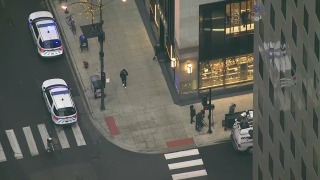 Chicago police were searching for six to 10 suspects who stole merchandise during a smash and grab Friday afternoon at the Gucci store on the Magnificent Mile, officials said.
Photos from inside the high-end fashion retailer, which is located at 900 N. Michigan Ave., showed purses on the floor and busted glass. Police said the offenders entered the store, broke a display case and stole an undisclosed amount of merchandise before taking off.
The suspects ran from the scene in a light-colored vehicle, police said. The incident remains under investigation.