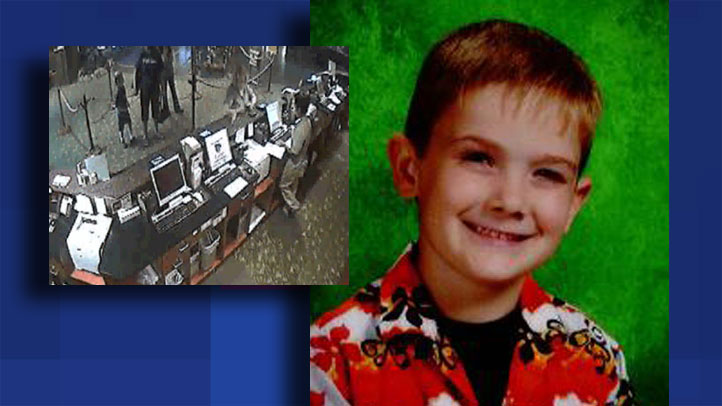 Aurora police announced a renewed appeal Friday for help in finding a young boy who went missing one year ago.

Timmothy Pitzen, 6, has been missing since his mother, Amy Fry Pitzen, was found dead of an apparent suicide in a Rockford motel room on May 14, 2011. A note left behind in the motel room said the 6-year-old boy was safe and in someone's care but did not indicate whom.

Police on Friday released more surveillance video clips of Amy and Timmothy taken May 12, 2011, at Key Lime Cove Resort in Gurnee and the following day at Kalahari Resort in the Wisconsin Dells.

Four of the clips taken at Key Lime Cove show Fry Pitzen and Timmothy checking in, checking out, walking into the resort from the main canopy and exiting the stairwell of the resort. Another clip shows the two exiting the stairwell of Kalahari.

Police are hoping the new footage will encourage people to be on the lookout for missing items that could yield clues to the boy's whereabouts. Fry Pitzen's cell phone, I-Pass and the clothing she was seen wearing on other surveillance videos, as well as Timmothy's Spider Man backpack and his toys from the SUV, are still missing, according to police.

New scientific evidence shows Fry Pitzen's SUV was stopped on a gravel road and then near a meadow police say is most likely in Northwestern Illinois, according to a press release. However, they are unable to narrow down the search past Lee, Whiteside, Carroll, Ogle, Stephenson and Winnebago counties, the release stated.

Six months ago police released a series of video showing Fry Pitzen at the Kalahari Resort with Timmothy standing at a checkout counter, another from Key Lime Cove that shows the two walking down a hallway, and another that shows Fry Pitzen entering and leaving a convenience store alone.

In August, police released surveillance video showing Fry Pitzen taking Timmothy from his Aurora elementary school on May 11. They also released two clips of a home video featuring Timmothy in November 2010.

Around the same time, police uncovered a secret email account set up by Fry Pitzen. FBI profilers thought the woman may have used the email to help plan her actions leading up to her suicide and the disappearance of her son, but the lead investigator in the case, Detective Trent Bryne, said the account "had absolutely nothing to do with Timmy's disappearance" and "a lot of it was just spam."

Timmothy stands about 4 feet, 2 inches tall and weighs about 70 pounds, officials said. Anyone with information is asked to call Aurora Police at 630-256-5500 or local authorities by dialing 9-1-1.