A manager of a Chicago restaurant has been suspended after video surfaced showing the aftermath of an altercation he had with a black teen, in which he threw a chair at the young man, then claimed he did it because he was concerned about previous incidents at the eatery.
Video footage shot during the Jan. 2 incident shows the manager of the Poke Poke restaurant in downtown Chicago apologizing to the teen for throwing the chair saying he was "in the wrong" and got "really defensive" because of two recent incidents involving black men.
"Two days ago, not trying to be racist, two black guys robbed two people right here," the man is heard saying in the footage, which was posted to social media by former mayoral candidate and activist Ja'Mal Green.
Video: Manager Apologizes After Throwing Chair at Black Teen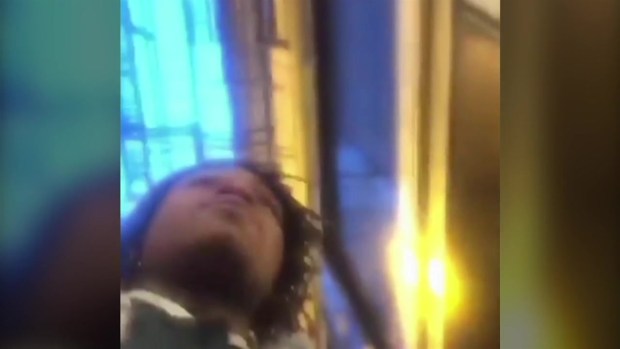 John "Kyle" Johnson said he was walking down Wabash Avenue when he saw someone wave at him from inside the restaurant. As soon as he walked into the eatery, he said the manager began yelling at him and threatening to kick him out.
"I'm just staring at him, listening to him yelling - he picks up a chair and starts swinging at me," Johnson said.
Police were called following the incident, but an investigation remained ongoing as of Wednesday.
According to authorities, an 18-year-old man was struck with a plastic chair by the 32-year-old manager following a "verbal altercation."
The 32-year-old manager told authorities the 18-year-old entered the restaurant and began to argue with him. The manager told police the teen "clinched [sic] his fists" and acted in a way that made the man "believe he was going to receive a battery."
At that point, the manager threw a chair at the teen.
Police said the teen allegedly told two people at the location "that he had something in his backpack that would end them." Johnson denied that claim.
The 18-year-old was taken to a local hospital with pain to his arm.
"I was surprised I got hit at first," Johnson said. "I'm like I just got hit and that's when the pain started ringing up my arm and to my shoulder."
The restaurant said the manager involved was suspended "pending the completion of the police investigation."
"We deeply regret the recent incident that happened involving Kyle and our manager," restaurant management posted on Instagram. "How our manager reacted to the situation was absolutely unacceptable and against what we stand for."
It went on to say "there are no excuses for what happened" and it is "taking the matter very seriously."
"First, we want to be absolutely clear that we do not tolerate discrimination or racism of any kind," the statement read. "Diversity, inclusion, and compassion are principles we are deeply about, and those values embody who we are as a Chicago-bred, minority-owned and operated establishment.
"We are all part of the Chicago community, we will learn from this incident, and we will continue to promote our core beliefs of kindness, compassion and respect to everyone."
An attorney for Johnson said they plan to take action following the incident, but what that action is has not yet been determined.
"We're exploring a bunch of different avenues to take," said Anish Parikh. "It's not [Johnson's] intention to close this business down."
Parikh added, however, that "given the state of our country right now, especially our city right now, this is something that needs to be tackled head on."
"Most of these other instances around the country were taking a lot of verbal abuse, a lot of exchanging of words, but I think this is one of the first ones we've seen where a physical action was taken," Parikh said.
The attorney questioned the restaurant's training policies and hiring process.
"This is my first time ever dealing with racial profiling," Johnson said. "I'm only 18. I'm still thinking that racism is something that's kind of fading away but it's very real."
The manager involved did not respond to requests for comment. No charges had been filed as of Wednesday.