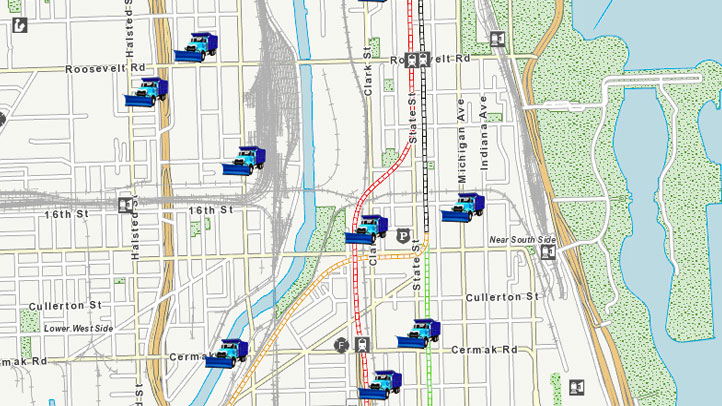 During last night's snowstorm, Your Ward Room Blogger stayed home and enjoyed opening night of the Department of Streets and Sanitation's new Plow Tracker website.

Plow Tracker superimposes little blue snowplows on a map of Chicago, allowing snowbound residents to follow the machines' progress, minute by minutes. It's like a video game, except your Ward Superintendent is playing. I followed the Plow Tracker from 7 p.m. to 11 p.m., and I can tell you, it works. I typed in my address, allowing me to watch the little blue snowplow move around Rogers Park. The little blue snowplow never reached my street. When I went outside this morning, sure enough, my street had not been plowed.
Admittedly, I don't live on a vital thoroughfare. It's a three-block street at the city limits. One way, going south. Nobody drives on it unless they live here, or are going to the beach. And nobody goes to the beach in January.

My only suggestion: the site should mark in blue the streets that have already been plowed.
Streets and San also has an Adopt-A-Sidewalk website, that allows you to take responsibility for clearing the walk on your street, but that hasn't gone live yet. A Snow Corps site aims to connect car and shovel owners with elderly and disabled residents, but requires volunteers to pass a background check first. This one is well-intentioned, but most of us know who needs help on our own block, or in our own building, and can find them without going on the Internet.

Finally, just as Ward Room suggested, there is a "Chicago Dibs" website, featuring photos of forlorn chairs in the snow, all over our city.
Buy this book! Ward Room blogger Edward McClelland's book, Young Mr. Obama: Chicago and the Making of a Black President , is available Amazon. Young Mr. Obama includes reporting on President Obama's earliest days in the Windy City, covering how a presumptuous young man transformed himself into presidential material. Buy it now!