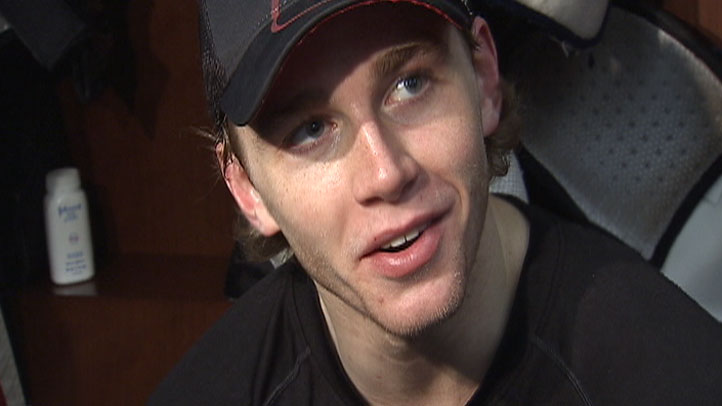 By now, if you've read anything to do with the Hawks, or even been next to anyone reading anything about the Hawks, you've heard the most asinine talk in perhaps the entire history of the organization:
Patrick Kane for Ryan Miller.
Even typing those words makes my skull indent like the hull of a submarine on a deep dive. I can't even really fathom where it started. It is pretty much the dumbest thing spouted by anyone pretending to know anything about the Hawks or hockey in this town that I have ever heard.
First, Patrick Kane is a generational talent. That's right. Generational. You simply don't give up on those because you don't like his face (Jay Cutler), or because he's having an off year. Kane is so gifted he can make the game look easy, which the dopes in this town who make up an all too sad percentage of the sports fans mistake for lazy. Patrick Kane is not lazy. Other than maybe the post Cup summer, he's constantly worked and improved on his game. Look at the shape he came into this season in. Yelling at Kane about his defense is a lot like yelling at Da Vinci for not cleaning his brushes. It hardly even matters. And Kane does play defense as best he can. He's not that big or fast, and was only asked to work on it here in the pros and really only in the past four years under Quenneville. While Jonathan Toews is the better player, Patrick Kane has the most amount of talent. That isn't going anywhere, and it shouldn't. All of us should be grateful that we get to watch Kane every game, even when he's struggling, and should pray that he retires a Hawk and his #88 goes to the rafters.
As for Miller, most Hawks fans only regularly watched him in the Olympics, which has skewed the view. Yes, very good six games there, and like two of them were against a team that actually mattered. But that's not a career. Or a season. And you'd be shocked to learn that both of those for Miller aren't that impressive.
Yes, he won the Vezina in that same 09-10 season, and deservedly so. But other than that? Never had a goals-against under 2.5. Or a save-percentage over .920. Here's the kicker: he's pretty much been as bad this year as what the Hawks already have. And he's been whiny about it. He can be a prima donna. How does that fit in the room? Oh, and he's locked up for two more years at over $6 mildo. He hasn't won a playoff series in six years. He will not carry you in the spring, or at least has never proven he can.
So you want to pay that salary, and give up that kind of magical player for a goalie who simply isn't elite?
No, you don't.