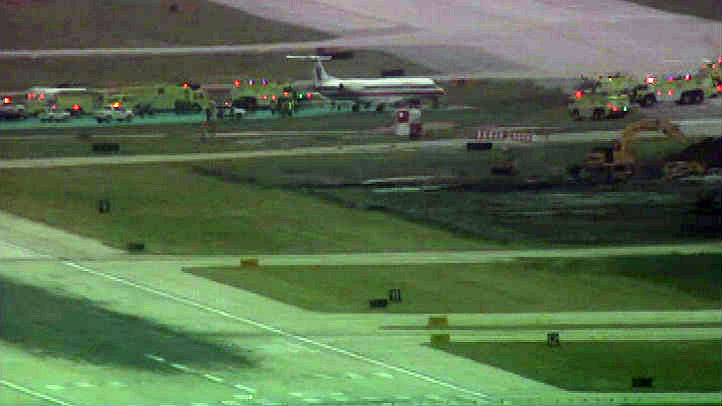 The plane that veered off the runway Thursday morning at O'Hare International Airport was taken out of service a day earlier for another problem, officials said.

American Eagle Flight 4069 departed for Tulsa around 8 a.m. Thursday and reported mechanical problems after takeoff, said Chicago Department of Aviation spokeswoman Karen Pride.

The plane turned back toward the airport and landed, Pride said, then veered onto the grass before returning o the pavement.

No injuries were reported, the Chicago Fire Department confirmed. Fagan said 28 passengers and three crew members were taken to the terminal by buses. Another aircraft used for flight 4069 took off shortly after 11:30 a.m. and was in Tulsa about 90 minutes later.

Fagan said the plane's captain decided to return to O'Hare because of an indicator light in the cockpit.

"An emergency was declared, as per procedure," Mary Frances Fagan said in a statement. "The aircraft landed on the runway at ORD at 8:38 a.m. and then veered off onto a cargo taxiway."

The same aircraft in Thursday's incident was temporarily taken out of service Wednesday. Flight 3927 returned to O'Hare shortly after taking off for Hartford, Conn., said American Airlines spokesman Matt Miller.

The plane was inspected by a maintenance team and put back into service, he said.

Following Thursday's incident, Miller said the aircraft was taken to a maintenance hangar at the airport for futher inspection.

Passengers on other flights at O'Hare told NBC Chicago the incident is a little disconcerting.

"It makes us a little nervous," said passenger Jason Gulting on his way to Traverse City, "but we still have to go places."

"It doesn't bother me," said passenger Roni Gray.

This is the second incident in as many days at O'Hare. On Wednesday, a 747 cargo jet clipped the tail of an American Eagle regional jet that was completing its arrival at a gate. No injuries were reported in the incident.