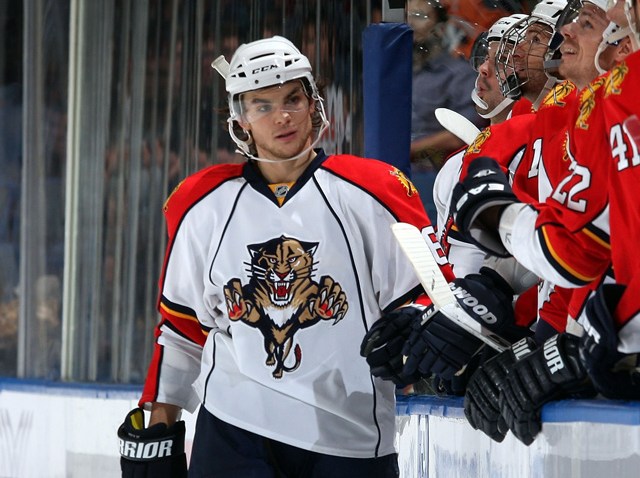 We'll get to the very definition of a ho-hum win over the Edmonton Oilers later, but the big story of Wednesday night is the Hawks trading for Michael Frolik.
Here are the particulars of Frolik: This is his third year in the league, and in the first two, he put up 21 goals in each. It's easy to get real excited about someone doing that on a completely horse-waste of a team like Florida, but there are two things to remember: Firstly, two years ago the Panthers were a playoff team that merely got Roethlisberger'ed out of the postseason tournament due to this ridiculous shootout, so they weren't that bad. Secondly you always should be wary of people who put up impressive numbers on a bad team, because someone has to score. Ryan Potulny had 15 goals for the Oilers last year, and have you seen him at all?
That said, based on reports and brief glimpses of Frolik from watching the Panthers (not something I do often because, well, my life is sad enough and I would like to have the love of some woman one day), I know Frolik to be pretty talented.
He's not going to solve the "sandpaper" problem the Hawks have, but he's got some serious hands and vision. He can play center, though Coach Quenneville already is threatening to throw him at both wings, which Frolik also can do. He's obviously not very good at the dot because he hasn't taken many faceoffs in three years and hasn't played center this year. But GM Stan Bowman's intention obviously is to provide a skilled, left-handed enter to get Marian Hossa the puck on the second line, and Frolik can certainly do that.
You'll hear a lot of reports about this season where Frolik has been invisible a lot. That's a worry. I want to believe it's a 22-year-old kid jaded about being on a team getting its head kicked in on a nightly basis. And that could be it, but we won't know until he gets here. Maybe it's just a player who needs a change of scenery and to be surrounded by superior talent, which he will get (assuming Hossa isn't counting little blue birds circling his head right now). And maybe it's not. It's a gamble, but it's one worth taking because Frolik has a lot to work with. Q probably won't do it, but Frolik should be trouted out at center starting Friday to see what we have. He probably should be between Hossa and Patrick Sharp because Sharp may need to take the draws. But again, we'll see.
As for what the Hawks gave up? I've always been a Jack Skille fan. It's hard not to appreciate those wheels and the determination that came with them. But Skille is never going to be a premier scorer in this league. He wasn't in the AHL, and from what we've seen this year, Skille only has one move: to fire high short side from the right side of the ice.
Skille may benefit from playing left wing, where his body would be more open and have more options. But he might not. He's actually not as big as Florida GM Dale Tallon would like to believe, so you wonder how much of a physical force he could be. Still, he could be more than he is with an enlarged role, a role that he'll get in Miami that he won't get here, and I hope he does well. But the Hawks gave up at best a 3rd liner for a player who very well could be a 2nd line center for years. And that's better by a lot.
The wild card in this deal is the goalie the Hawks got in Alex Salak. He's a question for September, but he's currently lighting up the Swedish Elite League after putting up stellar numbers in the AHL last year. He's probably already being penciled in as next year's backup behind Corey Crawford.
You can't judge this trade fully right now, but what you can do is see the Hawks got the best two players in it, and that's a win. For the rest of it, we'll just have to be patient.