Two protesters were arrested Wednesday after supergluing their hands to the countertop at a Chicago Starbucks location to fight the upcharge for vegan milk alternatives.
The protesters with People for the Ethical Treatment of Animals, including a Buddhist monk, were charged with criminal trespassing after video showed a Chicago police officer and store manager asking the two to remove their glued hands and move their protest outside.
The protesters were eventually able to unglue their hands from the counter with the help of what appeared to be a bucket of ice.
Earlier on Wednesday, PETA supporters chanted, "Save the planet! Save the cows! Stop the vegan upcharge now!" in front of the Starbucks storefront at the intersection of East Adams Street and South Michigan Avenue, according to a release.
Video from the event showed two protestors -- one wearing a shirt that says "END VEGAN MILK UPCHARGE" and one wearing a black and orange robe -- each with a hand glued to the Starbucks countertop.
"We are here with PETA at this Chicago location Starbucks to let them know to wake up and to stop charging extra for plant based, animal and earth friendly milk options," one protester tells the crowd.
"No one should be penalized for choosing sustainable options."
Starbuck's currently charges customers around 70 cents extra for plant-based milk in beverages.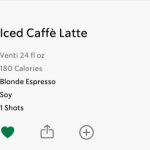 Starbucks released the following statement on the vegan milk upcharge:
We respect our customers' rights to respectfully voice their opinions so long as it does not disrupt our store operations. 
Regarding alternative milks, customers can customize any beverage on the menu with a non-dairy milk, including soymilk, coconutmilk, almondmilk, and oatmilk for an additional cost (similar to other beverage customizations such as an additional espresso shot or syrup). Pricing varies market by market.  Adding a splash of any alt-milk to Brewed Coffee, Iced Coffee, Cold Brew and Americano beverages is offered free of charge.
A similar "glue-in" took place in May, when actor James Cromwell superglued his hand to the counter of Starbucks in New York city, also in protest of the coffee chain's upcharge policy for plant-based milks.
"PETA will stick to Starbucks like glue until it agrees to drop the vegan upcharge," PETA Executive Vice President Tracy Reiman said in the release.