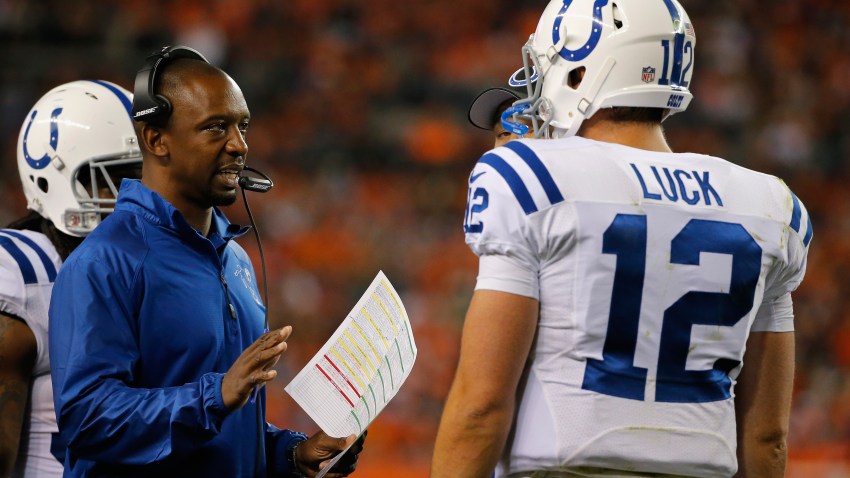 Fans of the Chicago Bears might be content to just kick back and watch the NFL playoffs on Sunday afternoon without much thought on the outcomes of the games (other than rooting against the Detroit Lions, presumably), but there are still some storylines that they should pay attention to.
The first one comes during the first game of the day, which pits the Indianapolis Colts against the Cincinnati Bengals. One candidate who is generating a lot of interest throughout the league as a head coach is Colts offensive coordinator Pep Hamilton, and his team will be facing one of their sternest tests of the season as they go up against the intense pass rush and smart coverage schemes of Marvin Lewis and the Bengals.
A day after Arizona Cardinals defensive coordinator Todd Bowles saw his team adjust well, but ultimately fall to, the Carolina Panthers, Hamilton takes his turn in a sort of quasi-audition for an NFL head coaching job. Getting the ball out of Andrew Luck's hands quickly could prove to be a useful blueprint for Jay Cutler in Chicago, and being able to mix in the run to keep the Bengals from solely focusing on taking away Luck's passing lanes would show the ingenuity that the Bears will demand from their new head man.
Another possible item to watch for is the play of Cincinnati linebacker Rey Maualuga. A free agent after the 2015 season, Maualuga could be a smart pick-up for the Bears to help rebuild their abysmal linebacker corps, and with an especially weak draft class at the position, they may need to spend their limited salary cap room wisely.
In the late game, Bears fans can continue to nurse their pipe dreams of bringing Detroit Lions defensive tackle N'Damukong Suh to the Windy City. In October Willie Young said he'd love to have Suh in the mix in Chicago, and Adam Schefter of ESPN had listed the Bears as a potential destination for the soon-to-be free agent. With limited cap room and a potential distaste for his questionable on-field decisions, the Suh thought is likely a fantasy, but watching him play against a stout Dallas running attack could still be entertaining at the very least.