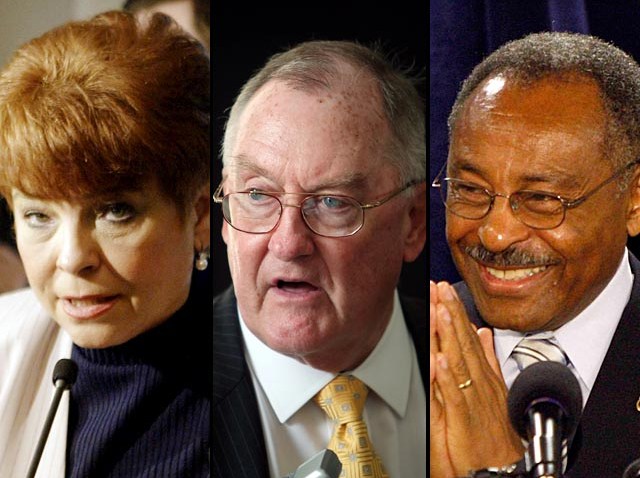 As the chairman of the clouty-heavy Winston & Strawn law firm, former Gov. Jim Thompson hardly needs your charity.
But he - like thousands of other retired Illinois public workers - is raking it in.
Thompson is one of nearly 4,000 such folks with a pension of more than $100,000 a year, according to a Sun-Times analysis.
And if that doesn't make your blood boil, consider this: Thompson's pension has risen by 50 percent since he left office. How is your pension doing?
And Roland Burris truly snookered us all. Having previously held two state posts before being appointed a United States Senator, his pension has also risen nearly 50 percent, too.
In fact, more than 2,000 retired state workers have collected more than $1 million since retiring, the Sun-Times has found. Some have collected more than $2 million. Five have collected $3 million.
"It's both illogical and extraordinarily expensive for the governments, and the taxpayers pay the burden,'' Civic Federation President Laurence J. Msall told the paper.
No kidding.
Take Judy Baar Topinka. Please.
Topinka, who is running for comptroller, makes more money now from taxpayers than she ever did while actually holding state office.
Her annual take of $141,482 is 23 percent more than what she made when she left the state Treasurer's office in 2007.
Likewise, former state Senate President Emil Jones is about to see his state pension rise to $122,334 - almost $30,000 more than his last salary when he was actually working.
And that doesn't count Jones's pensions from the city, county and park district.
Well-played!
Not surprisingly, neither Topinka nor Jones responded to the paper's queries for comment.
"We're facing increased taxes and lower services to pay for these extremely generous pensions," Msall says.
And Topinka and Jones won't even come to the phone to thank us.
That just wouldn't be the Illinois Way.
Steve Rhodes is the proprietor of The Beachwood Reporter, an award-winning Chicago-centric news and culture review whose pension plan grants a certain allotment of Old Styles according to years of service.
Copyright FREEL - NBC Local Media