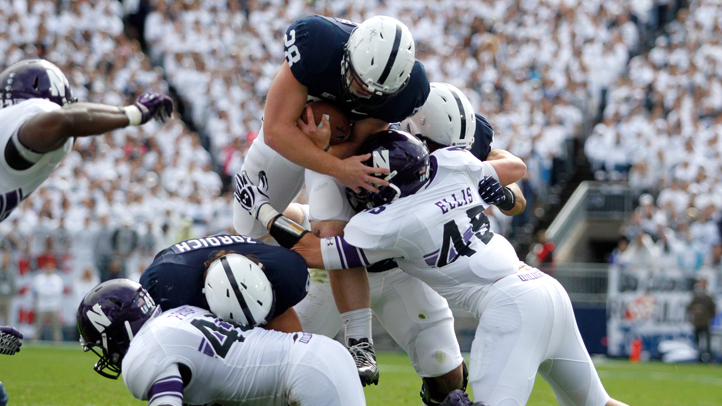 Quarterback Matt McGloin had the go-ahead score on a 5-yard touchdown run with 2:37 left and Penn State rallied from 11 points down in the fourth quarter to beat No. 24 Northwestern 39-28 on Saturday.

The Nittany Lions scored three times in the final 9:49, starting with McGloin's 6-yard touchdown pass to Allen Robinson as the receiver dragged along the back line of the end zone. Michael Zordich had a 2-point conversion run to get within 28-25 before McGloin's scramble into the end zone sent the homecoming weekend crowd into a frenzy.

Penn State (4-2, 2-0 Big Ten) then stuffed Northwestern's last-gasp drive after Trevor Siemian's pass for Kain Colter was tipped away on fourth down.

Things looked so good for Northwestern (5-1, 1-1) after Venric Mark's 75-yard punt return for a touchdown with 50 seconds left in the third quarter demoralized the blue-and-white faithful for a 28-17 lead.

Mark also ran for a score and finished with 72 yards on 13 carries.

The Wildcats couldn't get to 6-0 for the first time in 50 years. Even worse for Northwestern, the loss continued a disturbing trend of second-half collapses against Penn State. The Wildcats had halftime leads the previous two years before falling to the Nittany Lions.

This year, they couldn't hang on to an 11-point lead in the fourth quarter.

Adding to his reputation as a bold play-caller, Penn State coach Bill O'Brien decided to go for two after Robinson's fourth-quarter score. Zordich rumbled up the middle to get the Nittany Lions within three.

After bending in the middle of the game against Northwestern's high-octane spread, Linebacker U. didn't break in the fourth. Dual-threat quarterback Kain Colter found his running lanes filled with swarming defenders, and defensive backs smothered the receivers.

McGloin struggled at times, too, but bounced back in the clutch. McGloin directed blockers in front of him as he rolled right but couldn't find a receiver. So the savvy senior just got into the front corner of the end zone for the touchdown.

McGloin finished 35 of 51 for 282 yards and two scores. Zack Zwinak ran for 121 yards and a score on 28 carries.

A week after dismantling Indiana for 704 yards of total offense, Northwestern hit a speed bump in Happy Valley. The Wildcats were outgained 443-247 in total offense and 30-14 in first downs.

Yet they still were in a good spot in the third quarter after Colter had a 10-yard scoring run with 3:12 left before Mark's terrific punt return touchdown about two minutes later for a 28-17 lead.

Colter, who had nearly 300 yards of total offense last week, was held to five carriers for 24 yards and three catches for 17 yards. Robinson finished with nine receptions for 85 yards and two touchdowns.
Copyright AP - Associated Press