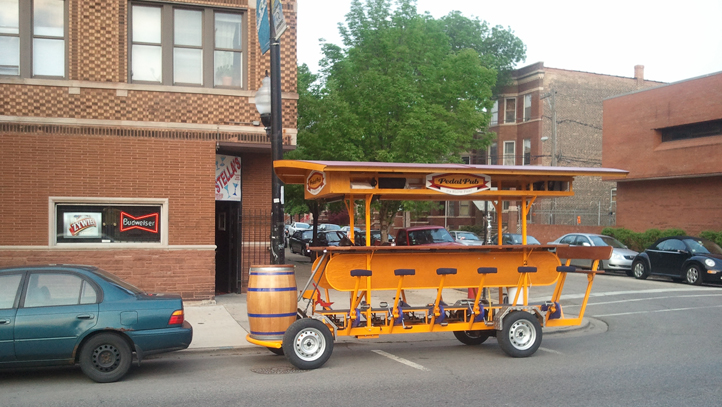 PedalPub, the Minneapolis-based pedal-powered bar, is asking locals for support as Chicago officials determine the future of the tour company in the city.
The company takes visitors on a tour of local bars while riding a 16-passenger bike. The company is currently circulating a petition to persuade officials to give them a business license. Without it, PedalPub's owners say they will no longer be able to give tours in Chicago.
As of Thursday, the petition has 224 signatures.
"This is the type of fun activity that continues to draw interest of locals and tourists alike," one anonymous signer said. "Don't let places like Milwaukee, Minneapolis and St. Louis bypass Chicago."
PedalPub has fought for a license since 2011, but Chicago's Department of Business Affairs and Consumer Protection denied them. Officials said the bike doesn't meet requirements under the charter bus law, which says a sightseeing tour vehicle must be propelled by a motor.
PedalPub decided to appeal what they thought was an unfair decision.
"We're powered by people having a good time," PedalPub City Manager Matt Graham said in a news release. "Not only are our passengers getting to know Chicago's great neighborhoods, they are also getting a little fresh air and exercise--all while spending money at local businesses. It just doesn't make sense why the BACP won't approve our application."
The company said it has hosted more than 400 Chicago tours, which have brought an estimated $320,000 to local businesses.
The city is expected to respond to the appeal sometime in the next few weeks.