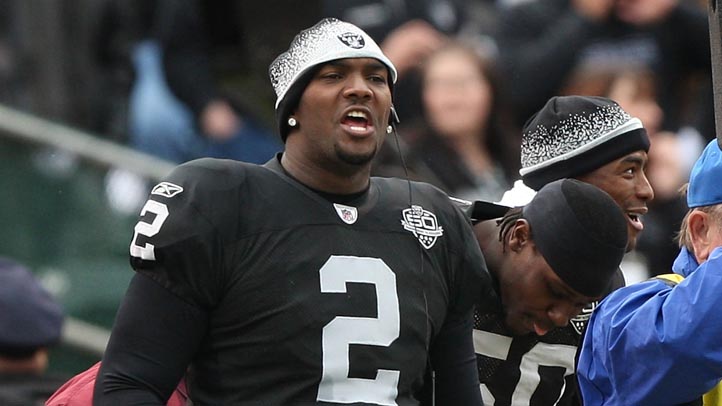 Though the Bears signed Josh McCown to another contract, they still are on the lookout for another backup quarterback. Most teams carry three to make sure they don't get into trouble because of injury or inept play. But the latest rumor of who the Bears are looking at is a little goofy. Rumors are spreading that the Bears want JaMarcus Russell.

Yes, JaMarcus Russell. The first pick of the 2007 draft who was a huge bust. The quarterback who ballooned to over 300 pounds and was benched during his time with the Raiders. He ended up the third-string quarterback and was released after the team signed Jason Campbell. The JaMarcus Russell who was one of the biggest draft busts of the century. The JaMarcus Russell who played in 31 games over three years and finished with a quarterback rating of 65.2 with 70 sacks and 23 interceptions.

Has Phil Emery lost his mind? New linebacker D.J. Williams was a risk, but Russell? He's a strong don't-buy.

But on closer examination of those rumors, it appears that Emery's faculties are intact. An NFL.com story that talks about Russell's attempted comeback quotes former NFL quarterback Jeff Garcia, who is working with Russell, as saying Russell wants to land with the Bears or Cardinals.

Through the extended game of telephone that is the NFL rumor mill, this turned into the Bears having interest in Russell. Thankfully, Sun-Times reporter Sean Jensen said that he doesn't see the Bears wanting Russell.

Go ahead, take a deep breath. While this is a season of change and the Bears will make some moves you find shocking, they haven't gone that far off the deep end.
Copyright FREEL - NBC Local Media