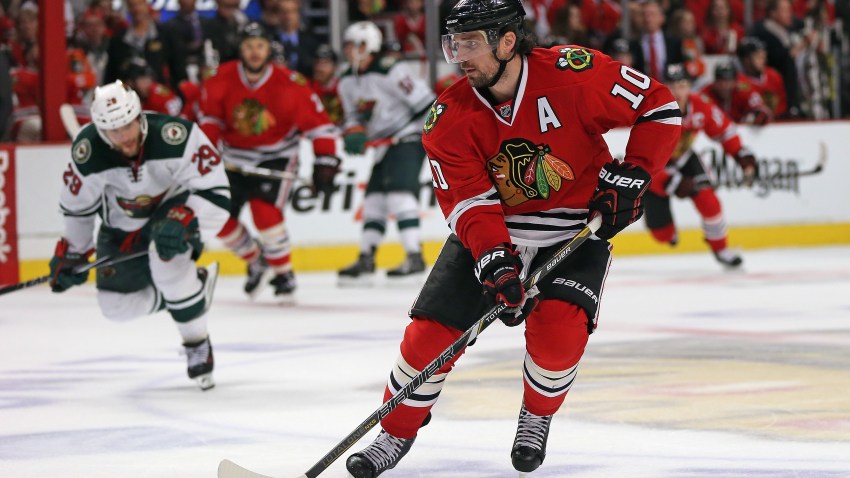 One of the hallmarks of the Chicago Blackhawks' game has been their ability to get scoring production out of a number of players, but one guy who is generally driving forward the effort is winger Patrick Sharp.
During the regular season, the 32-year-old veteran sniper racked up 34 goals and dished out 44 assists in what was one of the best seasons of his career. He also won Olympic gold with Team Canada in his first Olympic Games in Sochi, and he continued to be one of the quiet leaders of the Blackhawks' locker room.
As the postseason has gotten underway, though, Sharp's game has taken a bit of a downturn. It hasn't been for lack of trying, as he's racked up 36 shots on goal in 11 playoff games so far, but he's only scored twice and has four assists to his name. He also hasn't been as visible in the defensive aspects of the game, leaving those kind of back-checking plays to teammates like Marian Hossa and Jonathan Toews.
Head coach Joel Quenneville has been moving Sharp all over the lineup in recent games, pairing him up with Hossa and Toews but also sticking him on lines with Michal Handzus and Patrick Kane. Nothing has quite seemed to do the trick for the winger, but over the past two games, he has started to show some signs that his scoring touch may be coming back.
In the Game 4 loss against the Wild, Sharp picked up his first goal of the series and had two shots on net in the defeat. His shot on goal that didn't result in a tally came on a breakaway that could have given the Blackhawks the lead, but Ilya Bryzgalov made a tremendous save as Sharp pulled one move too many on the rush, pushing the shot right into the goaltender's leg pad.
Sharp is no stranger to struggling to score at times, but once he gets out of his funks, he comes back in a big way. During one stretch in December (following a game in which he scored a hat trick), Sharp failed to score in seven consecutive games, but in the five games that followed he picked up three goals. In March, Sharp only scored three goals in 15 games, but he followed that up with a torrid April start in which he scored goals in three consecutive games.
These kinds of hot streaks are always around the corner for Sharp when he is struggling, and if his performance in Games 4 and 5 is any indication, he could be due for another one if the Blackhawks can move past the Wild and get into the Western Conference Final for a second consecutive season.