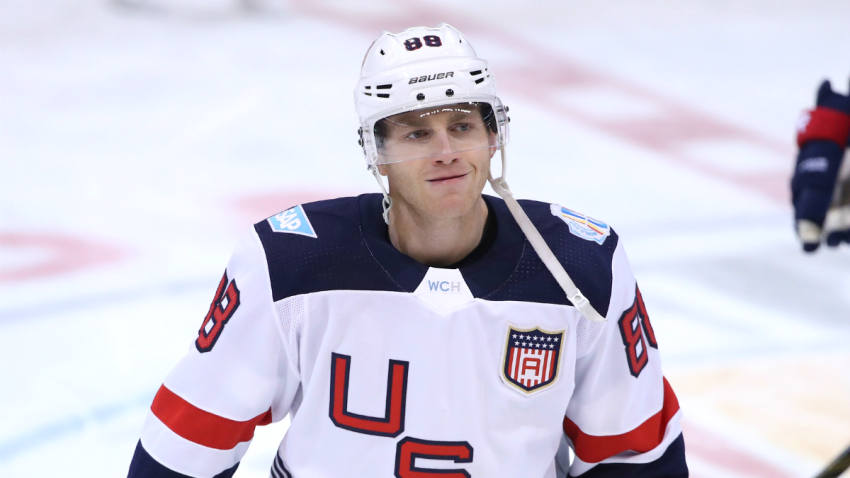 The Chicago Blackhawks are currently in the middle of their lengthy circus trip, but even as they're away from the Windy City, the team is helping make incredible memories for its fans.
One player that helped to do just that is winger Patrick Kane, who took time to sign an autograph for a young fan in Canada earlier this week. That fan's mother, Shannon Mercer, took a picture of the encounter and posted a touching story on her Facebook account. [[402740146, C]]
Her message read:
"I really hope that Patrick Kane gets to see this post….My boy was standing on the front steps of the hotel you were staying at in Edmonton today, anxiously awaiting a glimpse of you. When the bus pulled up, he said he could feel his heart beating and when you came down the steps of that bus, you could have ignored my 8 year old who (was) waiting to see you with stars in his eyes, but you didn't. You motioned for him to come to you, where you took the time to ask his name, his age, who his FAVORITE player is (you of course), you signed his hat AND his stick and you gave my boy a most special and amazing memory that he will never, ever forget. He said that meeting you is basically his best Christmas gift and that nothing could ever beat this day. I wanted to let you know, from the bottom of this Mama bear's heart, thank you for taking the time to share yourself with my little boy today."
The Blackhawks later replied on the Facebook post, saying that Kane has seen the picture and that he "enjoyed meeting your son."
The post has taken the internet by storm, getting shared nearly 11,000 times and receiving over 71,000 likes on Facebook.