Patrick Kane made an appearance today with GM Stan Bowman out at O'hare Airport to open the Chicago Blackhawks restaurant. I'm guessing this place will allow you the opportunity to spend $7 on a beer and get some overpriced, underwhelming chicken fingers while you wait for the next announcement of your flight being delayed. But you'll get the beer in a Blackhawks glass that they probably won't let you keep, and there'll be lots of fake paraphernalia. Good times.
Anyway, whenever Kane makes an appearance these days it's news. In fact, when he's not making appearances, it's news. He can't help it. You may have missed it, it wasn't much. But the fact that Kaner wasn't being seen, wasn't throwing out first pitches at Comiskey or Wrigley, wasn't ending up on Deadspin or the like, led to all sorts of whispers. They ranged from anything to rehab to ... whatever the opposite side of the spectrum is.
All of it was unfounded, never confirmed, and patently ridiculous. But that's where we are with Kaner. Honestly, what could you hear about him that you could immediately dismiss? That he'd built his own plane? That he'd defected to Russia? That he's retiring to brew his own beer? It's pretty much everything short of that.
Hey, remember when the team floated those stories a couple summers ago about how Kane spent his time reading the Harry Potter books? God, that seems so funny now.
Anyway, Kane couldn't come up for air without stirring something up, as always. So it was only a matter of time before Hockey Buzz's John Jaeckel reported on Twitter that Kane was seeing a wrist surgeon. Now, a grain of salt ... no, the entire shaker -- should be taken with whatever Jaeckel reports. The dude throws so much to the wall it pretty much is an absurdist interpretation of anarchy at this point. Why would the 'Hawks brass let him out in public if he were under scrutiny? But if he's right, wrist surgery probably puts training camp in doubt.
Not that I think Kane is actually having surgery, or won't until we hear it from a few other sources. But this is where we're at with good ol' Crazy 88. You can say just about anything about him, and more than a few will believe it.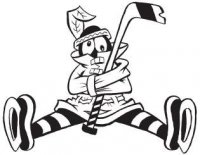 Sam Fels is the proprietor of The Committed Indian, an unofficial program for the Blackhawks. You may have seen him hocking the magazine outside the United Center at Gate 3. The program is also available for purchase online. Fels is a lifelong 'Hawks fan and he also writes for Second City Hockey .