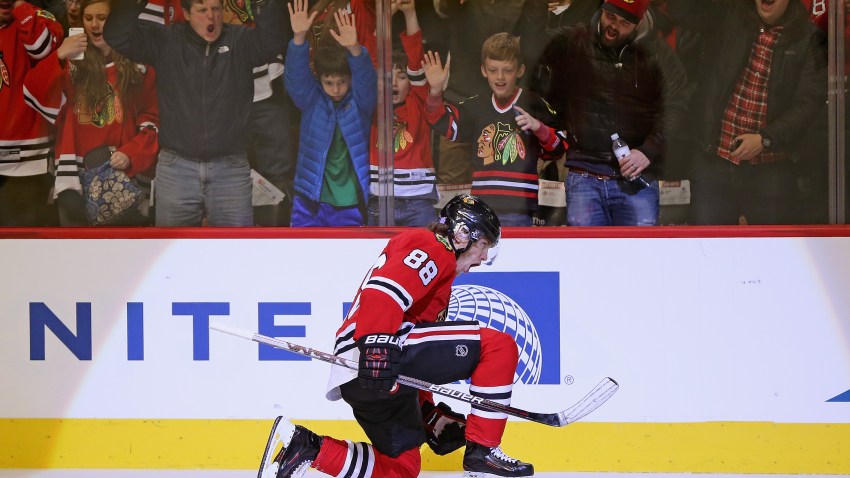 The Chicago Blackhawks were looking for a quick start to their game Sunday against the Edmonton Oilers, and that's exactly what rookie winger Artemi Panarin gave the team as he scored two first period goals to help the Hawks to a 4-2 victory.
While the goals themselves were impressive, with Panarin firing a one-timer wrist shot from an incredibly tough angle on the first goal and bouncing off a check before ripping a wrister over Cam Talbot's glove on the second, the company he joined by scoring the two goals is equally as remarkable.
With his first goal of the night, Panarin became the first Blackhawks rookie to score within the first minute of a game since defenseman Niklas Hjalmarsson accomplished the feat in an April 2009 game against the Detroit Red Wings at Joe Louis Arena.
When his second goal tickled the twine, Panarin joined another current Blackhawks player by achieving the notable feat. According to the Elias Sports Bureau, he became the first Blackhawks rookie to score two first period goals since Jonathan Toews did it in a February 2008 tilt against the Nashville Predators.
With his three-point night on Sunday against the Oilers, Panarin's point total for the season now stands at 15 points, with four goals and 11 assists to his credit. To illustrate just how remarkable that total is (the rookie is currently on pace to notch 82 points this season), here are Toews and Patrick Kane fared in their first 15 career games:
Patrick Kane: 5 goals, 12 assists
Jonathan Toews: 7 goals, 7 assists
While Kane relied on big scoring output in individual games to achieve his total (including a four-point game in October 2007 against the Columbus Blue Jackets), Toews achieved his with remarkable consistency. He notched at least one point in 13 of his first 15 career games, and while Panarin has only picked up points in 10 of his first 15 tilts, he still is rivaling both Blackhawks stars in terms of what they were able to do early in their careers.