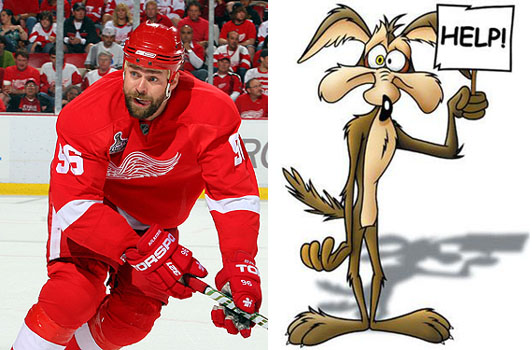 The Chicago Blackhawks got an incredible rookie season out of Russian winger Artemi Panarin, but according to a new report, they're going to have to pay a hefty price if they want to keep him in the Windy City after the 2016-17 season.
According to Chris Kuc of the Chicago Tribune, Panarin is looking for a six-year contract with the Blackhawks that would pay him at least $6 million per season:
"A source said Panarin is seeking a six-year deal worth more than $6 million per season, a figure that could be problematic for a Hawks team that already has eight players with cap hits of more than $4 million per season, including Jonathan Toews and Patrick Kane each at $10.5 million."
With oil prices still low and a sluggish Canadian economy still slow to recover, the league's salary cap has not exploded forward like many anticipated that it would after a new television contract with Rogers kicked in north of the border.
That shortfall has left teams like the Blackhawks scrambling with salary cap issues, and those problems have already cost the team numerous players, including Brandon Saad and Teuvo Teravainen.
Despite the high price tag and the rash of players that have left the team in recent years because of salary cap crunches, Blackhawks G.M. Stan Bowman is still confident that there will be a contract in place that will keep Panarin in Chicago.
"We're always confident," Bowman told media on Tuesday. "You go into a negotiation expecting to get a deal done. That's the way I've been in the past, and that's the way I am now."
Panarin's asking price is high, but it's reasonable for a player that had one of the best rookie seasons in team history. The winger scored 30 goals and dished out 47 assists in 80 games for the Blackhawks, grabbing the Calder Trophy as the league's rookie of the year and helping Patrick Kane win the Hart Trophy as NHL MVP.
Panarin is only making a base salary of $812,500 this season, but performance bonuses from his Calder-winning campaign last season will pay him an extra $2.575 million in salary for the coming year.
The Blackhawks currently have 11 players under contract for next season, with a projected cap hit of nearly $58 million for those players. A Panarin deal for $6 million could necessitate the team getting rid of another high-priced veteran player, but it's unclear at this point whether the team would attempt to do that in the expansion draft next summer or via a trade with another team.