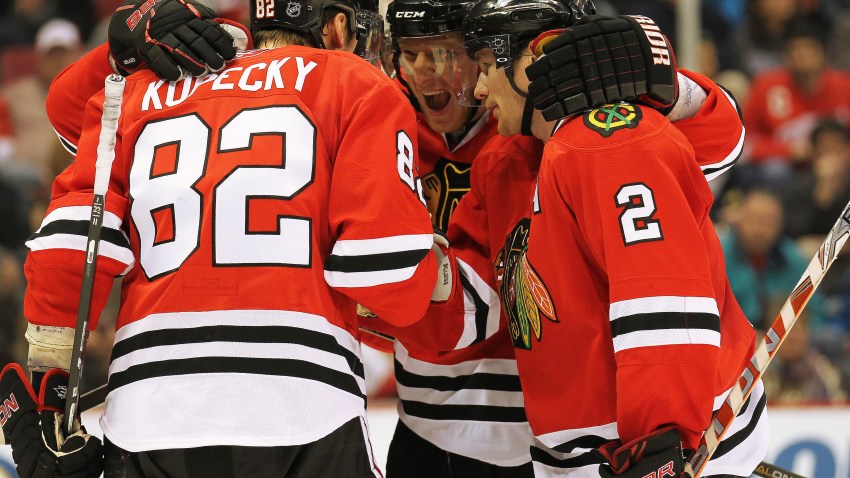 The Chicago Blackhawks announced their training camp roster on Wednesday morning, and there are a slew of veteran players who are looking to give the team some needed depth.
Veteran center Daniel Paille, who played for many seasons with the Boston Bruins, will join the Hawks on a tryout basis, as will winger Tomas Kopecky, who played with the Blackhawks when they won the Stanley Cup championship in 2010.
Another name familiar to some Blackhawks fans is Jake Dowell, as the former Rockford IceHogs standout will join the team on a tryout contract. Dowell has appeared in a total of 157 NHL games with the Blackhawks, Stars, and Wild, scoring 11 goals and dishing out 22 assists.
On the defensive side of things, Michal Rozsival will be in camp with the Blackhawks, as will veteran defenseman Kyle Cumiskey. Jan Hejda, who most recently played with the Colorado Avalanche, will also be with the Blackhawks on a tryout basis, and he will be joined by Lubomir Visnovsky, who is trying to crack one last NHL roster at the age of 39.
The presence of Paille on the roster suggests that the Hawks aren't settled on a third-line center, as Jonathan Toews, Artem Anisimov, and Marcus Kruger are all locks at the position. Paille will likely battle Andrew Shaw and Teuvo Teravainen, among others, for the role during camp.
Kopecky would seem to be more of a depth signing in case of an injury, but with several young players like Artemi Panarin, Kyle Baun, and Ryan Hartman looking to make the roster, Kopecky could also be a veteran insurance policy in case the youngsters can't make the cut this preseason.
On defense, the Hawks are likely going to sign at least one or two of the veterans to contracts in order to give themselves some depth behind Trevor van Riemsdyk on the roster. Visnovsky and Hejda will both have their chances, but it is interesting to see Rozsival back in the fold. After suffering an ankle injury during the postseason, could he actually be healthy enough to gain a roster spot? We'll have to wait and see when camp opens on Friday at Notre Dame.