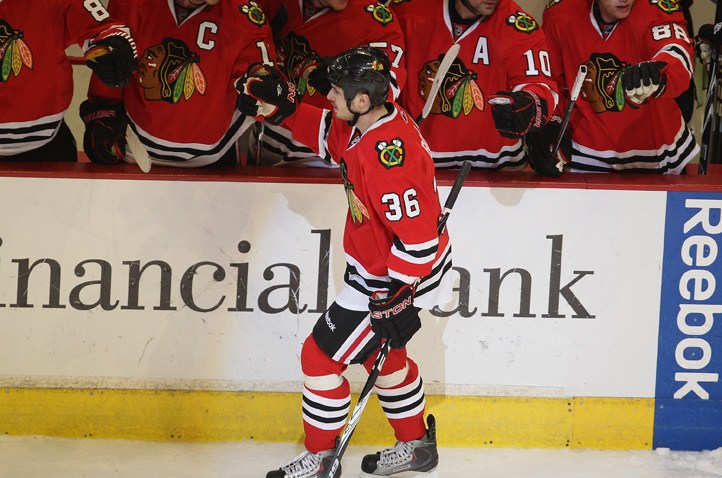 As we get ready to start my first full season here at NBC's Madhouse Enforcer, it's now time for our first practice notes piece. Yay! These are always so exciting. That's a bingo!
Anyway, couple stories trickling out from the Twitters. Both Ben Smith and Patrick Sharp are practicing with the team. We'll get to more on Smith later, but Sharp being there can only be considered good news. Part of the thinking of sending Brandon Pirri back down was that Sharp was going to be ready to go Friday, and if he's on the ice today and will get three full practices before Friday, that would only confirm it. Hope he enjoys playing with Jonathan Toews and Brandon Saad, because that's the way it's looking. The only other option would be to move Marian Hossa up with Toews and put Sharp and Patrick Kane together. But it is unlikely that Coach Quennevile is ready to have that defensive deficiency gun in his mouth from Jump Street.
Smith is the more curious case, simply because the Hawks handling of concussions in the past can't be considered exemplary. On a couple of occasions, Brent Seabrook has barely missed a game after taking severe shots to the head. Duncan Keith is another. And yet Dave Bolland missed significant time, but one wonders if that's on the Hawks staff or the player. Smith took a savage shot to his dome, and for him to be on the ice at practice less than a week later just seems at odds with what we thought. Maybe he does feel better, maybe it wasn't as bad as we thought it looked, but I remain to be convinced. Still, that would have been the other nail in Pirri's NHL coffin, as with a healthy Smith there's no center spot open.
-Or is there? Because Dave Bolland didn't answer the call to the post today, with an injury that's being kept all kinds of secret.
It's not a concussion, that's all we'll get. Seeing as how Bolland is pretty much made out of balsa wood and chewed gum, this is always a worry. And the Hawks spent some time this summer trying to tell us how hard he worked and what great shape he was in, so they're not going to undo all that propaganda before the season even starts. Watch to see if Pirri gets recalled, that'll mean Bolland is hurt enough to miss time.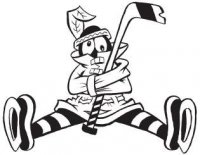 Sam Fels is the proprietor of The Committed Indian, an unofficial program for the Blackhawks. You may have seen him hocking the magazine outside the United Center at Gate 3. The program is also available for purchase online. Fels is a lifelong 'Hawks fan and he also writes for Second City Hockey .