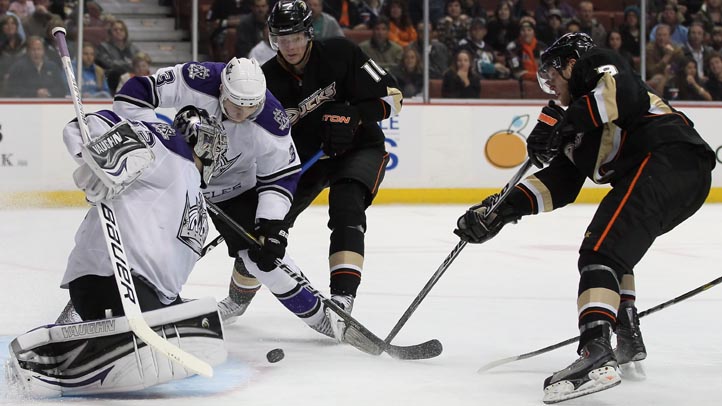 Seems rare in the four seasons I've been writing this, but the Hawks go into tonight's game, the fourth in a row I can say this, with no injury concerns or lineup changes. Sure, there may be some shuffling of lines, but it's unlikely. Though the Hawks juggled things in the 3rd period of the shootout loss to the Avalanche, that was more to get back into the game. Most likely scenario tonight sees the same lineup that started that game, with Dan Carcillo back with Patrick Kane and Marian Hossa, and Patrick Sharp back with Andrew Brunette and Jonathan Toews.
Their opponent tonight has some issues of their own. The Ducks are beginning a seven-game in 12 days road trip tonight, having lost their last two which were both at home. And they didn't look good doing it. Last Friday, they never got out of the starting blocks against Dallas and lost 3-1. They were still ignorant of the starter's pistol on Sunday against Phoenix, falling behind 5-2 before the 2nd period was 10 minutes old. They finally got going after that, but couldn't pull it back and lost 5-4.
When you face Anaheim, you're facing what may be the best line in hockey. Ryan Getzlaf, Corey Perry, and Bobby Ryan form a menacing force that takes some stopping. They're big, skilled, can be real nasty, and sometimes just overpower you. However, the weapon needs some cleaing so far this year, as they haven't been their dominant selves yet. None of them have more than four points, and all of these guys are point-per-game players. Ryan Getzlaf in particular seems to be going through the motions, which isn't exactly what you want out of your captain.
That doesn't mean they'll be easy to deal with. Corey Perry is going to set up base camp in the crease, and probably introduce himself to Corey Crawford in impolite ways. Only Brent Seabrook won't need the help of a couple sherpas to move him (now that's carrying out a metaphor!). Ryan has the speed that can make the Hawks take notice, and his a load himself.
But if the Hawks can keep that trio from taking over the game, they're more than halfway to a win. The Ducks simply lack any secondary scoring outside of Methusela Teemu Selanne, who is leading the Ducks in points with a modest four. But Selanne's real danger is on the power play. At even-strength, he can get a little float-happy and backcheck-resistant. But then at 41 anyone would have to pick their spots.
Another way to gain victory tonight is to make your power plays count, because against Anaheim you'll get more than a few. The Ducks are always one of the more penalized teams in the league, due to their slow feet at times and desire to try and intimidate opponents. The Hawks power play has been Looney Tunes this season, but if they can sort it out tonight they'll be turing hay into lots of gold. Perhaps a change in system, removing Patrick Sharp from the point and doing something else than the umbrella they've used all year.