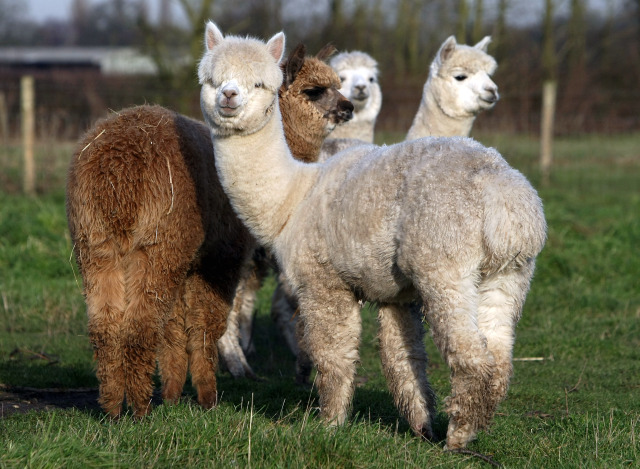 One little alpaca has had a very rough life, and he's only a month old.
Right from the start, the baby alpaca known as E.T. faced hardship. He was born upside-down and premature, said his owner Gordie Zachow, a Wisconsin farmer who owns 21 alpacas and houses nearly 100 more.
Just four hours after E.T.'s birth, "he went into convulsions," Zachow told the Chicago Tribune. "His heart rate went way, way high. And he couldn't get up and go with the rest of the boys."
That's because his front legs were severely damaged, possibly because E.T.'s mother stepped on them.
Concerned for the animal, Zachow took it to his friends at the TOPS Veterinary Rehab 180 miles south in Grayslake.
Doctors and therapists there have been using specialized treatments, including laser therapy and an underwater treadmill, to get the alpaca walking again.
"Alpacas can't live on three legs," medical director and co-owner of TOPS Laurie McCauley told the Daily Herald. "This is life and death for him."
If E.T. can't walk, then he won't be accepted by the herd, they explained.
To ensure that the baby isn't separated from the other alpacas for too long, Zachow drives E.T. back home—180 miles—after every treatment at the rehab center.
"He's got to remember he's an alpaca," Zachow told the Chicago Tribune.
Oh, and what's with that alien name?
"They had him in a basket, and the only thing you could see was his eyes and nose," Zachow said, reports the Chicago Tribune. "He looked like E.T."
Hopefully, the little alpaca will also soon be able to permanently return home.
Matt Bartosik is a Chicago native and a social media sovereign.
Copyright FREEL - NBC Local Media