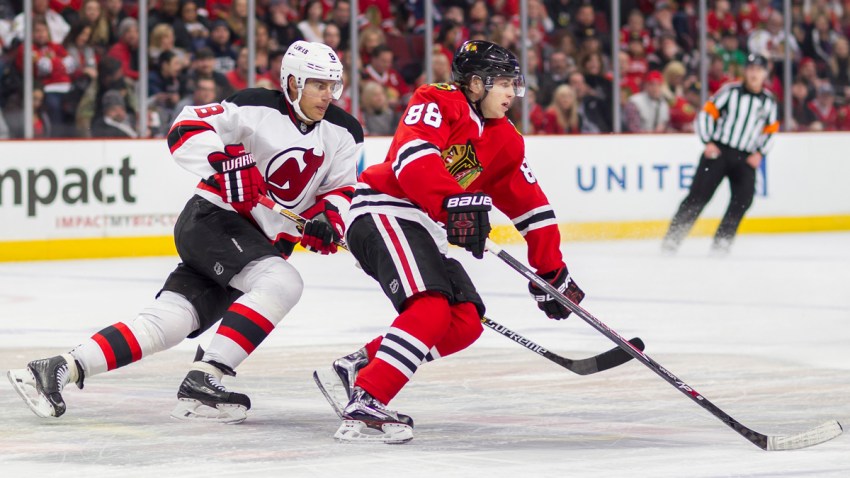 With a winter that feels like it will never end and the sour taste of an awful Chicago Bears season still fresh in their mouths, Chicago sports fans seemed to have something to look forward to over the next couple of months: watching the Chicago Blackhawks and Chicago Bulls compete for titles in their respective sports.
On Tuesday night, a nightmare scenario unfolded as both teams suffered catastrophic injuries that threatened to derail their seasons. First came the gut punch as Patrick Kane left the Blackhawks' game against the Florida Panthers with an upper body injury. Then, as the collective Chicago sports public bent down, fate delivered an upper cut to their chin as Derrick Rose was diagnosed with a torn meniscus by the Bulls.
Neither player has been conclusively ruled out for the season, with the cone of silence that NHL teams surround themselves with and the inexact science of determining the extent of knee injuries without surgery both playing a role in that. Nonetheless, it seems clear that both Kane and Rose will be out for a long stretch of time, and that got us to thinking: just how doomed are both teams as the playoffs near?
Starting with the Blackhawks, it seems that they can sustain without Kane in the lineup, but it's highly unlikely they can win a championship without a healthy Kane. Yes hockey is a team sport, and yes they could make a roster move to bring aboard a rental player (although Stan Bowman has been very cautious in the past about sacrificing future assets for short-term gains), but unless Teuvo Teravainen comes in and is able to make an immediate impact as a top-six forward, the Blackhawks would be lucky to win a playoff series or two without Kane around.
As for the Bulls, they were facing an uphill battle anyway even with a healthy Rose, as Washington's big-bodied forwards and Cleveland's LeBron James threatened to end any playoff run. With Rose gone, the Bulls do have a couple of decent options at point guard with Aaron Brooks and E'Twaun Moore in the mix, but with Kirk Hinrich's repeated injury issues and the fact that Doug McDermott has been unable to crack their rotation consistently, the Bulls seem to be a team with some really solid weapons but a mix that's unable to get the job done come playoff time.
If one had to pick a team that is better suited to winning a title without their primary player, it's hard not to lean toward the Blackhawks in that debate. With players like Jonathan Toews and Marian Hossa, the team has plenty of offensive firepower to get the job done, and what little cap flexibility they have could be used to add some help on the defensive side of the ice. Add Corey Crawford into the mix (assuming he's rested enough when the playoffs begin, and that is possible if Joel Quenneville continues to utilize Scott Darling effectively), and there seems to be more of a path for them to win without their leading scorer.
Despite all this title talk, the collective sting and shock of these injuries will be tough to get over for Chicago sports fans. Seeing players like Rose, who has gone through so much in his recovery from his previous two knee injuries, and Kane, who missed a chunk of last season with an injury and was looking like he'd become the first ever American-born player to win the NHL's Art Ross Trophy, go down with injuries is a shock to the system, and it serves as a painful reminder that nothing can be taken for granted when an athlete steps onto the field of play.
Now, in the words of Laurence Holmes, can someone do us all a favor and get some bubblewrap for Jose Abreu and Anthony Rizzo please?