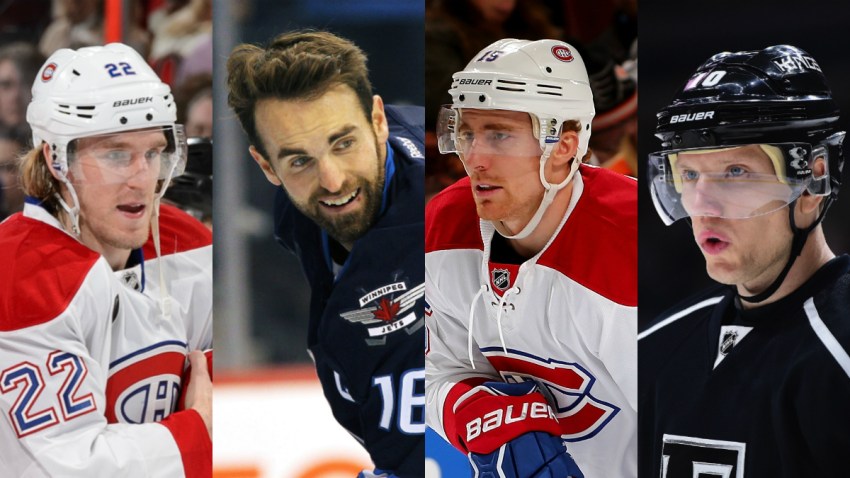 Going into Thursday morning, the Chicago Blackhawks were a team that had several notable strengths, but they were also a team with a flawed roster that needed to make some moves to give themselves a better shot at winning a second straight Stanley Cup.
By Friday night, the team had made several significant steps toward addressing those shortcomings. To get things started, the team brought in Andrew Ladd to fill a hole as a top-six left winger, and they sent out one of their top young prospects in Marko Dano to get it done.
On Friday, Stan Bowman made two more moves with several different motivations. To add a veteran presence and a puck mover to the blue line, Bowman acquired Christian Ehrhoff from the Los Angeles Kings in exchange for Rob Scuderi. The move also helps alleviate some of the Blackhawks' salary cap issues for next season, as Los Angeles will take on part of Scuderi's contract for the 2016-17 campaign.
Later on Friday, Bowman struck again to grab more rental pieces. He acquired Tomas Fleischmann and Dale Weise from the Montreal Canadiens to shore up the team's bottom six, and likely to give Teuvo Teravainen some help as he transitions to playing the center position on a more regular basis as Marcus Kruger continues to work his way back from injury.
In making all of these moves, Bowman did several things. He gave the team some salary cap wiggle room for next season, as all four acquired players are free agents at season's end. He also added veteran depth to a roster that had been populated with plenty of youth, with Dano and Phillip Danault being sent away in trades and Viktor Svedberg sent down to the minor leagues.
Finally though, he has done what every general manager wants to do ahead of the NHL trade deadline: he has worked within a tight salary cap window to make his team into the best possible roster it can be, and now it's up to Joel Quenneville and the players to deliver on that goal.
Bowman's decisions to make these trades have the potential to make the path forward difficult to traverse for the Blackhawks. The team lost a young, cost-controlled bottom six center in sending Danault away. They also lost a player who showed incredible promise in Columbus last year, and also carries a low price tag in a time when the Hawks will need all the cap space they can get to re-sign Artemi Panarin and Teuvo Teravainen (not to mention make room for new extensions for Brent Seabrook and Artem Anisimov).
Finally, the team also gave up a treasure trove of draft picks in the process. They gave up their first round pick in 2016, and won't pick until the third round of the process if they don't make a trade before June. They also gave up a second round pick in 2018, and they also could lose their third round pick that year if they win the Stanley Cup later this summer.
Those moves were necessary to help the team to have a better chance to win now, but they could come at a serious price later. Some of the Blackhawks' core pieces aren't getting any younger, with names like Marian Hossa, Duncan Keith, and Brent Seabrook all past the dreaded 30-year old mark. Replacements will have to be found sooner or later for those players, and losing draft picks and young, cost-controlled talent will make that process tougher.
Even with that being said, these moves had to be made by Bowman, and they were all prudent investments. Ladd should definitely add more balance and scoring to the top six. Fleischmann and Weise will provide veteran skill and some much-needed help for players like Teravainen. Even Ehrhoff should be an upgrade over Scuderi, as he is a solid puck mover and could help out a bit on the team's power play.
These pieces look like they will fit, but if Bowman is done making trades, then all the pressure is on them and on Quenneville. This team still isn't perfect, but their composition is as close to perfect as the salary cap and the realities of a parity-rich NHL will allow at this point. With that in mind, it's the players on the ice that will decide whether or not Bowman's moves have been the right ones, and the final stretch of the season will be a fascinating soap opera to watch unfold.