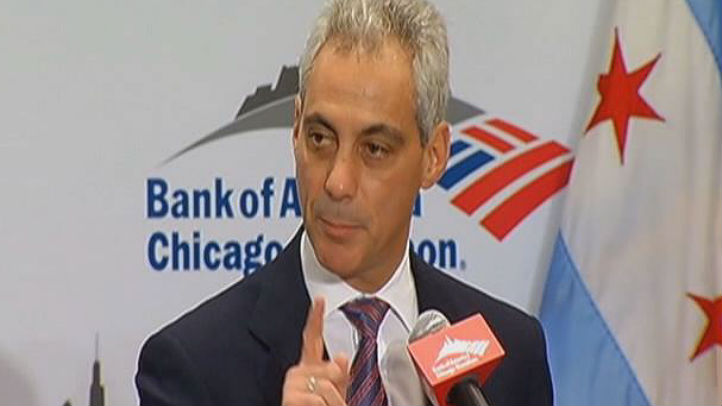 If you listened to today's debate in the Chicago City Council before the vote on Mayor Rahm Emanuel's proposed $8.7 billion 2014 budget, one message came through loud and clear:
To most aldermen, everything is fine in Chicago.
During the debate which preceded the Council's 45-5 vote to pass the budget, no fewer than 18 alderman stood up to speak. And of them, only one—Ald. Bob Fioretti (2nd)—felt the proposed budget was something other than a document worth praising as a miracle of good government and the absolute best path forward for the city.
Alderman after alderman had nothing but praise for the budget, the process that created it, the department heads who testified in support of it, their colleagues who held or attended meetings to debate it, and, last but not least, the mayor himself for his leadership throughout.
"If you look at all of these great plans [in the budget] to keep our city healthy, sound, viable, and a city that will attract tourists, this budget makes sense," said Ald. Rey Suarez (31st).
"We continue to address our deficit problem without resorting to gimmicks and increasing city taxes when money is stretched to the breaking point," said Ald. Walter Burnett (27th).
"Thank you, Mr. [Emanuel]," said Ald. Latasha Thomas (17th). "Thank you for your leadership and for presenting this budget."
In fact, so great was the budget that came before the Council for a vote that in her opening remarks, Budget Committee chairperson Ald. Carrie Austin (34th) felt compelled to issue a warning to her fellow alderman: vote against this awesome document at your own peril.
"I certainly respect everyone's right to cast their vote as they see fit," she said. "But [if you vote no], the next time a firefighter shows up on a cold night, tell them you voted against it. The next time police officers give up their time and safety, tell them you voted against it. I dare you to vote against it because we will be voting against those individuals."
For these alderman, and presumably those who chose not to speak, very little that might be wrong with the way the city is being run was worth bringing up during the debate.
Oh, sure, Ald. Timothy Cullerton (38th), Ald. Jason Ervin (28th) and one or two others mentioned that next year's budget process, faced with a slew of critical pension problems, was likely to be harder than this year. And one or two others noted that at one point they were thinking about voting no for various reasons, but changed their minds.
But in the end, it was up to five aldermen—Fioretti, Scott Waguespack (32nd), Nick Sposato (36th), Ricardo Muñoz (22nd) and John Arena (45th)—to play this year's spoilers and actually vote no.
For the rest, it was all smooth sailing. Nothing about the ramifications of the 49 schools Mayor Emanuel closed earlier this year. Nothing about the mental health clinics he also closed. Nothing about questions over whether the police force is properly staffed, if there's enough jobs in Chicago, whether there's enough affordable housing or the fiasco that is the CTA Ventra program.
And, unless I missed it, absolutely nothing about Mayor Emanuel's plans to continue pushing the city's financial obligations onto future generations by refinancing more existing debt. Or the city's downgraded credit ratings, which make it harder and more expensive to borrow money.
Instead, it was all hunky-dory, with alderman after alderman slapping themselves and each other on the back for managing to remain civil during budget hearings, not making waves and having the good grace to vote the way the Mayor wanted them to.
"Our budget is more than a statement of our projected revenues and expenses," said Fioretti in his lone dissenting speech. "It is a statement of our priorities. I can not in good conscience vote in support of a budget that fails to address many of the fundamental needs of the city, both immediate and long term."
Apparently, very few other alderman ever gave it a second thought.