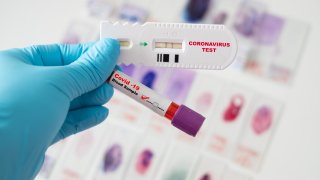 For the second consecutive week, no Illinois counties are at a "high" COVID-19 community level according to CDC data, as cases continue to decline statewide.
Just five counties are at a "medium" COVID-19 community level, compared to 20 counties last week, according to the CDC.
The continued decrease comes alongside recent announcements from both Illinois Gov. J.B. Pritzker and President Joe Biden that public health emergencies for COVID-19 will be expiring on May 11.
Illinois health officials have now reported a total of 4,029,905 cases and 36,167 deaths across the state since the onset of the COVID-19 pandemic.
In the week ending on Jan. 29, health officials are reporting 10,137 new probable and confirmed cases, as well as 76 deaths.
"It is welcome news that the White House and Governor Pritzker have announced that we are in a position to wind down the COVID-19 public health emergencies. This will give IDPH and our partners time to plan for the transition. However, we want the public to know that we will not let down our guard when it comes to protecting Illinoisans from COVID-19. The virus is still circulating and causing hospitalizations and deaths in the state. This is why we continue to focus our efforts on promoting vaccinations, testing and timely treatment, especially when it comes to protecting our most vulnerable friends and neighbors," Illinois Department of Public Health Director Dr. Sameer Vohra said.
As of Thursday night, 883 people in Illinois were reported to be hospitalized with COVID-19. Of those, 121 patients were in the ICU and 41 patients were on ventilators.
Currently, the preliminary seven-day statewide case rate is 86 COVID-19 cases per 100,000 Illinoisans.
As of Friday, a total of 25,925,437 vaccines have been administered in Illinois. Of the state's total population, 79 percent have received at least one COVID-19 vaccine dose, more than 71 percent have completed their primary series of COVID-19 vaccines and more than 18 percent have received a bivalent booster dose.
The following counties are currently at a "medium" COVID-19 community level according to the latest CDC data, where masks are recommended indoors for those who are immunocompromised.
Hancock County
Johnson County
Massac County
Scott County
Wabash County