No, it's not a birthday or wedding anniversary. But to a lot of us, it's just as important.
At 10:06 p.m. tonight, it will be exactly one year to the minute that Patrick Kane somehow found a hole in Michael Leighton's pads. Just :30 seconds after that will be the one year to the exact moment when everyone finally figured out what happened. Nearly five decadesin the wilderness over. A fandom justified.
It's a moment, and a night, that I won't ever forget (despite the 45 beers I must have had to deal with the stress that night and the celebrations after. And the champagne seemed like such a good idea at the time.)
I was lucky enough to watch that game with many dear friends and my brother, my two compatriots at Second City Hockey.com flanking me for the entire game. There was Matt McClure putting me in a chokehold when I tried to start a "We Want The Cup!" chant after the 2nd period when the Hawks held a 3-2 lead. He wasn't taking any chances. Then we furiously raced around the bar telling everyone, "Win the period, win The Cup." We didn't win that period, though.
But that didn't matter, did it? We got a better moment out of it. In all honesty, when things froze after the puck went in and only Patrick Kane and Patrick Sharp knew it, I just thought we'd drawn a penalty. That was the only conclusion I could come up with after everyone just sort of stopping and muted cheers. But then the Hawks were pouring off the bench. They were skating back to Antti Niemi. You only did that if you'd won. Then McClure turned around to look at me with a look of pure shock on his face, arms outstretched with palms up. I turned to Matthew Killion on my left, and then it was bedlam. The three of us locked, jumping up and down as i poured my beer (I think that was only #36 at that point), over our heads. Everyone was throwing liquids in the air screaming. What a mess it must've been. I'm sure our friends who owned the establishment didn't care.
It's moments like that that always make me balk when someone tells me sports don't matter. That's such a cop out. I'm sure it makes no sense to people who can't understand investing time, emotion, and money into something you have no control over. On paper, that's completely logical. But those people view sports as entertainment, and that's not really what it is to a fan. Sure, we want to be entertained, but not in the way a movie or theater entertains us.
Sports fandom is an alternate reality, or a cult, or a word I can't really think of. It's almost separate from the real world. It's something we all enter into together for a few hours a day, and then exit together. It's there with its own scope and reasons. When we're miserable because our team is losing, that's still entertainment. it's still the extraction of emotion, of passion. It's a sort of alternate reality.
But not matter? The tears I saw streaming down so many faces. Those don't matter? The friends I've made by simply being a Hawks fan. Those don't matter? The bond we'll always have because of one year ago today. That doesn't matter? The memory? Surely that matters. That when I see someone wearing a 2010 Cup Champs t-shirt, and they see mine, we share a kinship then? That has to matter, even just a little.
Maybe it shouldn't. But I know June 9th, 2010 matters. It matters to thousands of people who waited for that moment. Who kept coming back when everything logical told them they shouldn't. It matters to me. It mattered to Chicago.
Let's do it again soon.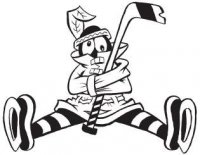 Sam Fels is the proprietor of The Committed Indian, an unofficial program for the Blackhawks. You may have seen him hocking the magazine outside the United Center at Gate 3. The program is also available for purchase online. Fels is a lifelong 'Hawks fan and he also writes for Second City Hockey .