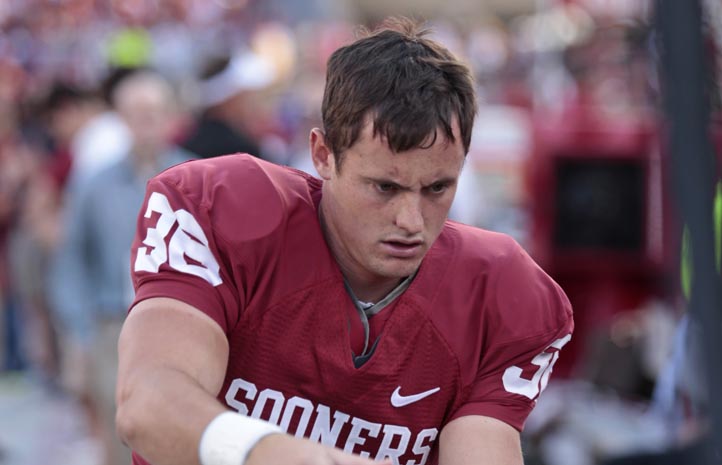 As a rookie punting prospect, Tress Way is in Chicago for OTAs with hopes of making the Bears team. But you can't blame him if his heart is back in Oklahoma. Way went to the University of Oklahoma, which is a short drive from tornado-ravaged Moore.
"The movie theater that was hit, that's where we all go see our movies," Way said on Tuesday. "The biggest thing, I was in our rookie meeting yesterday and my phone just kept buzzing and obviously I wasn't checking it or anything but I was really eager to see what happened, because we had no idea. We had been here all day. I just started getting pictures, text-message pictures from people. I mean, my goodness, it's heartbreaking because it's five minutes down the road from us. ... I was just so heartbroken because, man, I just want to go home."
He tweeted a similar sentiment.
Can't stop wishing I could be there tomorrow to help everyone. I should be there. I commend everyone who's eager to help. #OklahomaStrong — Tress Way (@Tressway36) May 21, 2013
Way said people at Oklahoma are already organizing to help.
"My fiancé, who is a softball player at the University of Oklahoma, the softball team started a charity where they're taking in shoes, and clothes and everything," Way said. "They're already donating. What's amazing is that in just a horrible natural disaster like that, God just can bless people by people helping out each other. You look outside and there would be a lot of times when people are running away from something that horrible, but in Norman, Oklahoma, Oklahoma City, I've heard news reports that they actually had to keep people away from the accident and away from the disaster because people were wanting to help that much. So that makes my heart feel a little bit better."
He said he plans to go home for Memorial Day weekend and will help out then.
Copyright FREEL - NBC Local Media