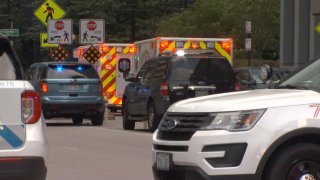 A man wanted on several warrants in California, including a homicide warrant, was killed, and three others have been injured in an incident at Chicago's Union Station, causing all Amtrak service to be stopped temporarily at the station.
According to Chicago fire officials, the incident occurred Tuesday afternoon.
According to a Chicago police spokesman, a suspect was identified by Amtrak police, and then pulled out a weapon, firing shots at officers. One of the officers returned fire, striking the suspect.
The man was transported to an area hospital, where he was pronounced dead Tuesday evening. A gun was recovered at the scene.
As of 6:30 p.m., Amtrak service has resumed in Chicago, with residual delays expected.
Three other individuals were taken to area hospitals with unspecified injuries, with all three having their conditions "stabilized" at this time.
According to Amtrak officials, all train traffic was temporarily stopped at Union Station due to "ongoing police activity," but resumed just after 6:30 p.m.
We will update this story with more information as it becomes available.