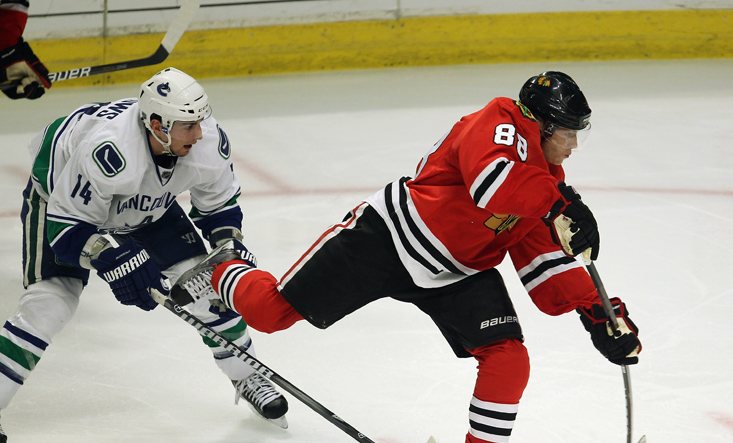 The hockey season just throws a hanging curveball at you at times. Last night, the Hawks got one in an Oilers squad that was at the end of a six-game road trip that spanned every timezone the continent has to offer, and it was pretty clear they just wanted to go home. The Hawks raced out to a lead from the opening bell, and though the Oilers hinted at coming back, they didn't hint that they were truly serious about it. After every Oiler goal the Hawks pegged one back, dangling a carrot to the Edmonton mule that they wouldn't ever catch.
The Hawks have now won three in a row, and head out on The Circus Trip which they've had quite an amount of success on in the past few years. Usually, you'll take .500 on it but the Hawks have surpassed that the past three years. Could be trickier this year as the Oilers at home aren't the welcome mat they used to be. But the Ducks might be. And these are discussions for another time.
Notes:
-Worrying is the injury to Brent Seabrook. Seabs left in the 2nd period after crashing into the boards on a rush, appearing to injure his knee or ankle. He at least got off under his own power, but it's likely he'll miss a game or two if not more. The Hawks can survive a little while without him by pairing Keith and Montador together (and getting John Scott out of our lives forever), because Hjalmarsson and Leddy have been really good together. But a long-term absence would be a major problem.
-Patrick Sharp, you're nickname is "The Shooter" not "The Giver". What's going on here?
-This second power play unit keeps working, and once again it came from the high slot where Montador tipped in Leddy's shot. Good thing it only took until November to find this area.
-Montador's first goal was awfully pretty, where he showed some swagger and patience to manuever around both Lennart Petrell and Nikolai Khabibulin. Some d-men may have just one-timed the pass into Petrell's shins (*cough* Keith *cough*), but Monty showed a real offensive nose.
Bunch of late nights coming up, we'll learn a lot thought.