A crowd of several hundred people snaked through the loop during the Thursday evening rush, causing headaches for commuters and, at times, catching police off-guard.

After speeches and a rally at the Thompson Center, a sit-down protest on the La Salle Street Bridge and a gathering outside the Chicago Board of Trade, protesters headed eastward toward Grant Park during the 6 p.m. hour.

Chicago police said a portion of Michigan Avenue, between Jackson and Van Buren streets, was closed to vehicular traffic so the demonstrators could pass through.

The about-face the demonstrators made at the Chicago Board of Trade seemed to take officers by surprise. Thursday's entire demonstrations had been previously coordinated between the groups and officials.

The event is similar to those happening in more than 30 cities across the country in a national "Day of Action" commemorating two months since the start of the "Occupy Wall Street" movement.

Forty-five protesters were taken away by police, but not handcuffed, after a peaceful, 30 minute sit-in demonstration on the La Salle Street Bridge.

They were taken to an awaiting school bus and cited, officially, for "Pedestrian Failure to Exercise Due Care" for blocking traffic access on the bridge. A police department lawyer said the fines will be less than $100 apiece.

No one was arrested, the lawyer said, characterizing the citations as being similar to traffic tickets.

The communications director for Stand Up Chicago, one of the groups involved in the demonstration, said her lawyers were viewing the bookings as arrests, and put the total number of protesters processed to be about 50.

An attorney for the group said he'll handle the citations himself so protesters don't even have to show up to municipal court.

Stand Up Chicago, comprised of union members, primarily the Service Employees International Union, and community groups, wore matching blue jackets.

Thursday's show of solidarity began at about 3:30 p.m. at the James R. Thompson Center on Randolph Street.

Congressional candidate Tammy Duckworth was part of the crowd who turned out for the rally.

"They are fighting for our government workers and our government employees and I'm here to show them my support," she said.

Stand Up Chicago and Occupy Chicago demonstrators put out fliers armed with slogans like "resist austerity," "reclaim the economy," and "recreate our democracy." Facebook was also used to advertise the protest.

Occupy Chicago's website, at occupychi.org, asked people to bring caution tape and to dress as a "monopoly banker" or a one percent person.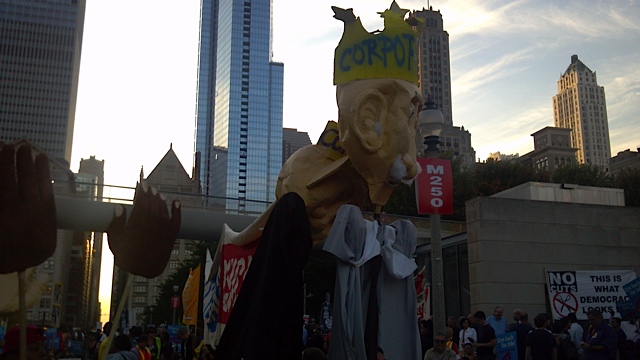 Demonstrators march east on Monroe Street after gathering at the Chicago Board of Trade.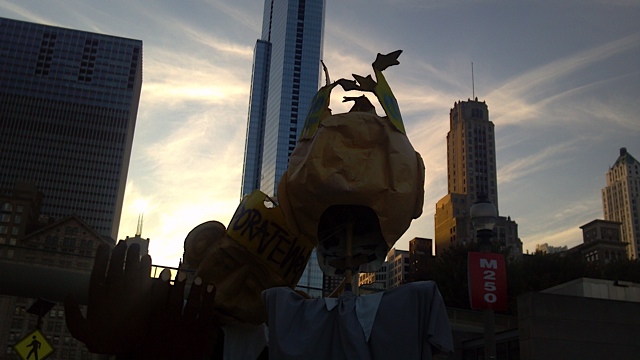 Demonstrators gather outside the Chicago Board of Trade at La Salle and Jackson streets.
An aerial image from NBC Chicago's helicopter of protesters on the La Salle Street Bridge.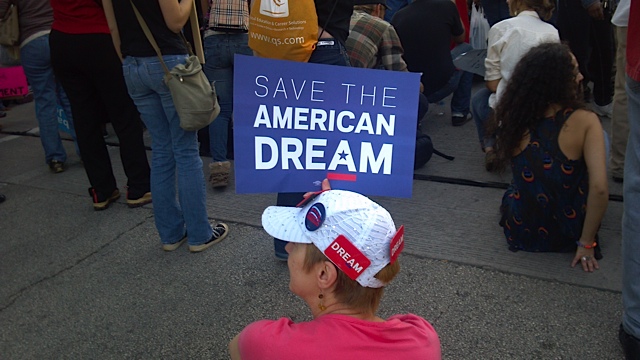 A group of protesters waits to be arrested as they stand their ground on the La Salle Street Bridge.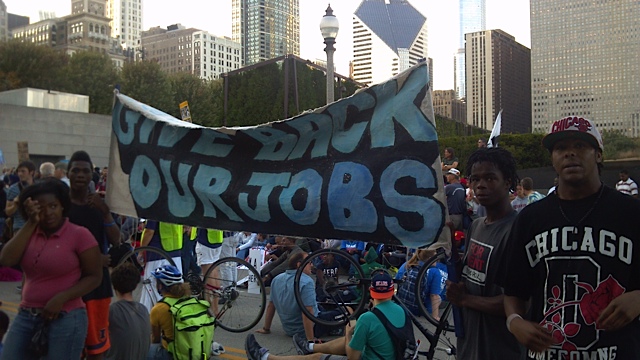 Protesters got a police escort as they walked on La Salle Street.
Protesters march south on La Salle Street.