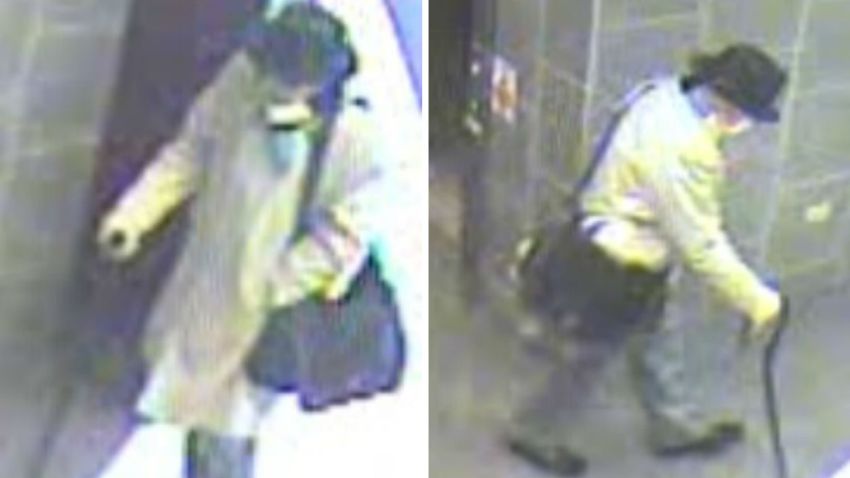 Tenants in a suburban office building where a lawyer was found strangled to death say police showed them surveillance images of a mysterious person in the building the day the man's body was discovered, the Chicago Tribune reports.
Multiple tenants in the Northbrook building told the newspaper police showed them a photo of what appeared to be a man wearing a trench coat and a hat. According to one tenant, the man "definitely knew what he was doing" and managed to keep his face from being captured on security cameras throughout the building.
On Wednesday afternoon, police released the images to the public, showing a man in a tan trench coat, with a black hat and possibly a surgical mask covering his face. The man is also seen walking with a cane.
Jigar Patel, 36, was found dead in his office around 7:30 p.m. on Dec. 7 in the 13400 block of Shermer Road, authorities said. An autopsy determined he died from strangulation and his death was ruled a homicide, the Cook County medical examiner's office said.
Tenants told the Tribune they believed Patel was expecting to meet with a new client that afternoon, and others who would normally be in the building during that time happened to be out of the office the afternoon he died. Ralph Cram, of Envoy Leasing Partners, told the publication "the guy picked the perfect time to come in."
Northbrook Police and the North Regional Major Crimes Task Force are investigating the homicide.
Anyone with information on the homicide should call Northbrook police at (847) 564-2060.